I have to say, while I don't necessarily miss the fashions from the late 1980's, the bright, bold and vibrant colors that are making  a splash for spring fashions at The Children's Place are so.much.fun.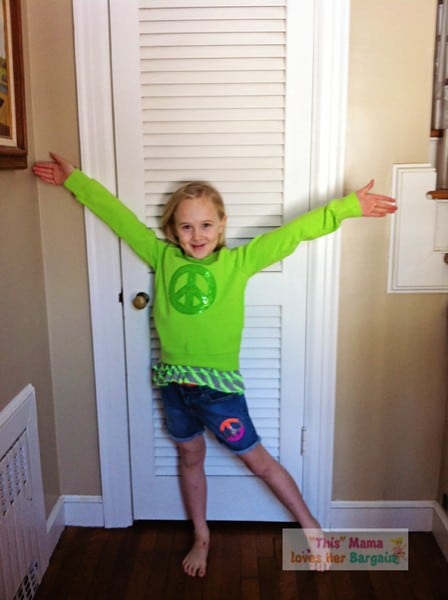 She is not wearing the belted denim neon patch shorts yet, or at least, not without leggings underneath.  She's determined to wear grey leggings under the shorts.  The striped ruffle tank is grey with the neon green stripes so I suppose it works.  She LOVES this look.  I have to steal the sequin icon sweatshirt to wash it because she wants to wear it so much! The shorts have adjustable waist- very key since kids grow and change so much from month to month- day to day, week to week?  (My kids sometimes have to after a big meal!)  I love the details on these pieces- the fun bow on one shoulder of the tank, the ruffle at the bottom- fun touches that the kids adore!
My favorite piece from the spring line is the tutu mesh skirt which I'm sad to report is not on the site right now but I hope it comes back, the kids want to get it for a friend for her birthday.  It's just darling.  It's "cool" enough that they feel hip, but "cute" enough that mom is satisfied.  You can pair this skirt with a casual tee to dress it down or jazz it up with some sparkles or a fun jewel cardigan sweater  like my older daughter is doing. Just a guess but the look my 3 year old is sporting is probably *not* what the designers had in mind…although the colors totally work together.  Don't you agree?  Another favorite thing about The Children's Place- almost all of their pieces can be mix and match.  That means we parents get more for our money, and kids can express their personal styles!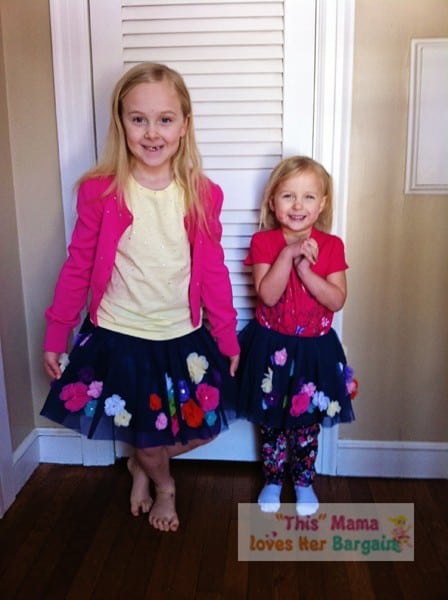 The flower print jeggings are over the top cute. My daughter dances around when she wears these calling them her fashion show pants.  They are a bi big on her but she'll fit them at least for a year- with the adjustable waist, they'll actually stay up!  She loves to wear the skirt over them, but my favorite is with a solid colored tee and a cute little shrug sweater or a sequin zip-up fleece hoodie. I also like knowing they'll stand up to whatever she does in them- dancing, playing, singing, rolling down hills!
The boys have some fabulous items for spring too.  I am in love with plaid shorts for my son right now and will be grabbing him a few pairs. (The Children's Place did send us an outfit for him but it was a size 8 and he's nowhere near that big so we donated the outfit).  I love the preppy look and I think it's adorable and cool on little guys.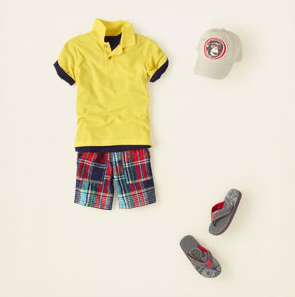 One reader will win a $25 gift card to The Children's Place !
Samples were received for review.  Opinions are my own.