I have always struggled with my teeth being discolored.  As long as I can remember, they've not been pearly whites.  It isn't that I don't brush them- I do, and I've tried whitening things over and over with no luck.  I decided to give Smile Brilliant's LED Whitening System & Whitening Pen a try to see if this could help me with my issue.
This product is effective.  Very happy with how it works.  I'm still searching for a good before picture, because I don't have one.  Applying the gel is super simple, and the instructions are very easy, very clear.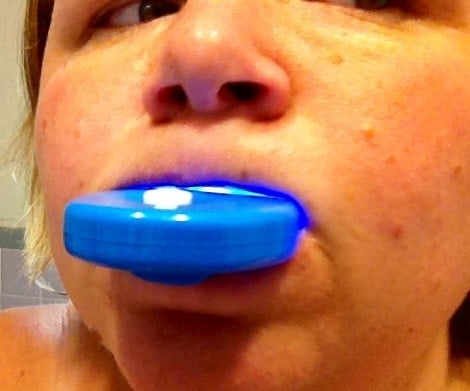 I have this horrifyingly bad photo of me USING this product, but that's the biggest thing I want to share with you- using this product is going to take some getting used to.  It's effective and I'm really liking it but it took me a few weeks to be able to wear it for as long as you are supposed to.  Once you paint your teeth, you have to put the protective tray on– think of the plastic mouthguards we used to wear for sports, just a lot thinner!  After the tray is in, you have to put the LED unit and hold it in place with your lips.  This is where I struggled. I don't know about you but I'm not used to having all that stuff in my mouth and even though I talk more than most anyone I've met to date in life, apparently, this doesn't make my lip muscles strong.  So be prepared to build up your time with the LED light in gradually. I wasn't able to hold it in more than 10 minutes the first week- now, a few weeks later, I'm able to use this as long as I need to.
Brilliantly Simple Package: LED Whitening + Whitening Pen

Price:   $39.95
You Save:   $90.00  (69%)

When speed is key to your brilliant new smile, grab the pen, accelerate with the LED light, and GO! Everything you need. 20 minutes a day. Guaranteed results or your money back!

High intensity Ultra-Blue LED activating light (batteries included)
Protective trays (top & bottom)
4ml Professional whitening gel pen (35% concentration)
30 Day money back guarantee
Life-time tray replacement warranty

When you dont have time to mess with syringes and need immediate results on the go, Brilliantly Simple does it all. Smilebrilliant.com is pleased to offer a tooth bleaching package that generates results in an easy to carry package. In as little as 20 minutes per day, Brilliantly Simple gets results and goes where you go. The whitening system includes an ultra high strength professional whitening pen with an LED lighting system. The gel paints on quickly and the LED whitening light accelerates the process. Affordability on the go is Brilliantly Simple!
One reader will win  a Smile Brilliant's LED Whitening System!
Loading Entry-Form…
…
A sample of this product was sent to facilitate my review.  Opinions are my own.
---
0