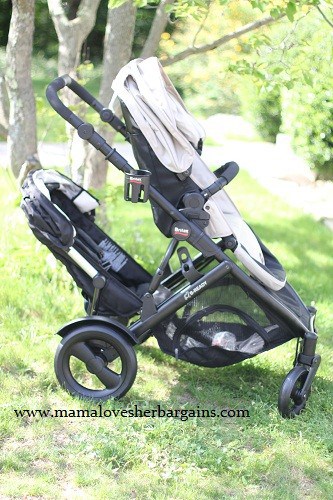 I wore all three of my kids more than I used a stroller, but I'm finding that more and more, as we venture to places that involve walking for long periods of time- like zoos, amusement parks, etc, that I'm wanting what a stroller offers- a place for the kids to get some rest, chill out, a place to store a cooler bag, etc. I have had four double strollers to date, and all of them were given away within weeks because I hated them. They were all big, bulky, hard to push, hard to maneuver, and especially the tandem ones, almost impossible to actually use without me ending up sweating and in tears moments after trying to use it. Wearing the kids was just easier. Less stressful.
Now that my littlest is almost 3, we're going further away and for longer periods of time- which is a lot of fun for all of us, but also means that little legs are walking for longer distances and longer periods of time. The Britax B-READY stroller with the (optional accessory) second seat is the first thing I pack in the van before we leave to go places these days. I'm in love with it. There are multiple ways to position the seat, which is high up so your little one can see the world- you can even have it so that your little one faces you while you are pushing them!
Assembling this stroller is really really simple. A few minutes, a few clicks when things go into place, and you are ready to go. Unfolding and collapsing the stroller are also super easy- meaning you aren't going to stand there fighting with the stroller at the end of your adventures trying to get the stroller back into your car. I love how easy Britax makes things for consumers- especially busy parents who are probably chasing small kids around while assembling these products!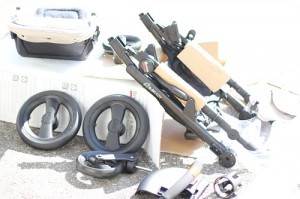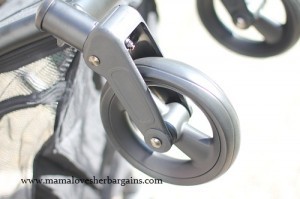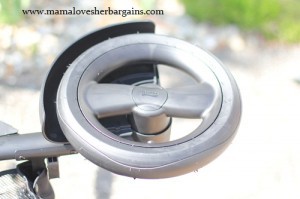 As always, Britax made the B-READY with safety in mind. High quality materials, made to last and function well, to keep your little one safe. The seats come with the 5-point harness system, which means your child will be snug and secure while riding both in comfort and style.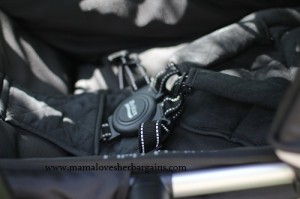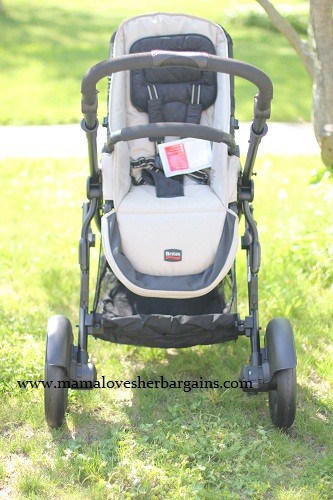 There's a ventilation flap that doubles as a peek-a-boo window- great if you want to just keep some air flowing, or peek in at your sleeping baby. The canopy hoods are quite generously sized for the seat of this stroller and for the second seat, so you can feel comfortable that your little one is protected from the sun (or strangers being curious).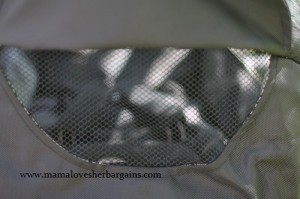 Appropriate from 6 months (or from birth when used with an infant car seat) up to 55 lbs.

For use with children from birth when using infant car seat, bassinet, or second seat (sold separately). For use with children at least 6 months old, up to 55 lbs when using top seat only.

CLICK & GO integrated adapter system works with BRITAX CHAPERONE and B-SAFE infant car seats and bassinet.
Modular stroller with over 14 configurations accommodates multiple seat, bassinet, and infant car seat configurations
Travel System compatible with other major infant car seat brands when used with Infant Car Seat Adapter Frame, such as Chicco Key Fit, Chicco Key Fit 30, Graco Snugride 32, Graco Snugride 35, and Peg Perego Primo Viaggio
Foam-filled rubber tires
Reversible top seat with 4 recline positions
Large under seat storage accessible from all sides
Large canopy with sun-visor and ventilation window
No re-thread, adjustable, five-point harness and head pad
Simple fold with automatic chassis lock
Adjustable handle height with comfort grip
One-step, linked parking brake with indicator
Comfort ride 4-point suspension
Included accessories: Adult Cup Holder
MSRP (USD) $499.99

The Second Seat that you can purchase as an accessory for the B-Ready really makes me HAPPY. I have hated every double stroller I've tried because they are too big, too bulky, and too hard to maneuver. We took the B-Ready to NYC a few weeks ago, me with a fresh arm injury that left my right arm 100% useless…I was able to maneuver the B-Ready with a 30lb 3 year old and a 39 lb soon-to-be 5 year old almost 100% by myself (I did need some help going up and down from sidewalks and up the ramp from the parking garage). That says something, people. I was almost in tears with relief that I could still use the stroller, because I wasn't sure what I'd do without one. Walking three kids several blocks in a city like NYC wasn't something I was prepared to do.

The Second Seat allows you to easily convert the B-READY stroller from a single stroller to an in-line double
Tangle Free, Five-Point Harness
Multiple Position Recline
Easily converts B-READY stroller to an in-line double in seconds
Large canopy with ventilation window
Stroller folds with second child seat attached
Built-in seat suspension
MSRP (USD) $149.99
With great quality components, safety features galore, and high quality fabrics to ensure your little one's comfort (plus a cupholder and very generous basket for YOUR stuff), the Britax B-Ready is definitely a must to consider when you are stroller shopping. This can truly be the ONLY stroller you need to purchase.
The basket isn't just great for its size- there are different spots to unzip the basket and get your belongings in- so you won't have to move the kids out of the way…or get the stuff in first, or make the kids get out before getting something out of the basket. The designers of this stroller thought of everything!
This is not an inexpensive stroller. I can tell you that I could not imagine why anyone would spend a lot of money on a stroller, until I actually got to see and USE a nice stroller. There is a big difference- and honestly, with the amount of money I've spent on other strollers that never made me happy, I could have purchased a B-Ready with ALL of the accessories and a cute diaper bag to match, plus a bit of cash left over.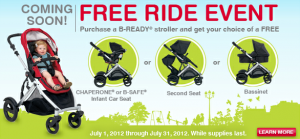 Right now, Britax is having a "Free Ride" event- with the purchase of any B-Ready stroller from July 1, 2012 until July 31, 2012, you can get a FREE Bassinet, Second Seat or Chaperone/B-SAFE Infant Car Seat! That's a HUGE freebie!
One lucky reader will win a Britax B-Ready Stroller with a second seat (in color of choice, based on availability)!!
Javascript must be enabled to enter this giveaway. Learn how to activate Javascript by
clicking here.

Loading Entry-Form
I received a sample of this product to facilitate my review. Opinions are my own.
0