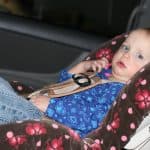 Carseat safety is a big deal to me.  I get a little obsessive about it at times, but hey, we all have our "things" and this is mine.  My son has spent the last 18 months in a very girlie, not at all boy flower print carseat, because, quite simply, I found a great price on one of the safest carseats on the market and snatched it.  When I say a great price I mean I stalked my local Target store enormously pregnant and when they thought they were sold out, I saw a Britax Marathon box tucked in the shelves UNDER where the exersaucers were.  Do you know what my very pregnant self did?  I climbed under the shelving to get that box.  (I LOVE bargains, remember?!)  34+weeks pregnant chubby lady wrestling with a huge carseat box.  Totally sane.  Not crazy at all.  But- I had a 10% off my purchase coupon and a normally $279.99 carseat was ringing up at $125.00.  I'd do it again in a heartbeat.  Well, maybe I'd ask a salesperson to climb in there, but you know. 
I'll do a lot for safety.  I'll do just about anything for the safety of my children.  I've had people tell me I'm crazy for being like this- but I know Britax, and I trust Britax.  I have heard countless parents from countless walks of life say the same things over and over and over again:  Safe seats.  Rock-solid, unwaveringly safe seats.  
The way people drive these days, every penny spent on a Britax is worth it!! (We've had a Roundabout, 3 Marathons a Parkway SGL and now the Frontier 85).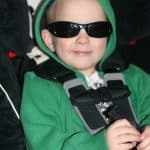 With large SUV's and so many tractor trailers sharing roadspace at all times, and adding in distracted drivers using cell phones or reading emails, or people eating, applying makeup… the road can be a scary place. 
Despite my love of the seat my little man is  was in, and trust me, I do still love it, we needed a new carseat because one of the seats in the truck is expiring next month.  So, when Britax said they'd sent a Frontier 85 for us, I was super excited.  We moved the flower seat to the truck, and now my littly guy can Moooooooooo-ve around in style (well, drive, but that's not as funny to say with the print) riding around in his Frontier.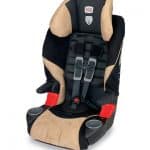 This seat has a 5 point harness that goes up until 85 lbs.  (My husband jokes that I can't possibly send my kids to a driver's ed class in 5 pt. harnesses…I say, watch me!)  The LATCH weight limit is higher.    Super easy to install with the tether and the LATCH. Click and tighten!
One thing I've always loved about the Britax brand, and the Frontier is no exception, is that the straps and buckles are so easy to use.  They pull smoothly, and loosen smoothly.  No need to tug or yank.  You KNOW for certain your child's seat is buckled because you can hear it click in- and if it isn't clicking, you know it isn't buckled all the way.  We've had a few times over the years when there wasn't a click and my kids notice first!! Mom!  No click!! 
This seat has something new, to me- instead of having to pretty much take most of the carseat apart to move the harness straps up and down, the whole headrest piece can be slid up and down for height adjustment.  This was great for me- changing the height on harness straps or changing carseat covers can be one of the biggest headaches parents face (want to get tempers flaring in the Bargains house?  Tell Mr. B that we have to adjust the carseat straps in one of the seats in the truck. There's no LATCH in there…).  Really, though, it took me a minute when we got the seat out of the box to realize how simple this seat was to adjust for height.  I have heard other parents say the harness straps tangle easily on this seat, but I haven't had that issue (yet?!).  Even if the straps do tangle, I'll deal with it. 
Of course, unlike the Marathon my 19 month old is riding in and Buddy B has been riding in, the Frontier has cupholders.  Apparently this is kind of a BIG DEAL to the preschool crowd.  Safety features?  Who needs 'em?  Cupholders are where its at!
Some of the features of the Britax Frontier 85: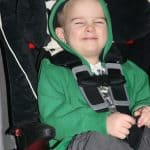 Energy-Absorbing Versa-Tether® features a staged-release tether webbing to slow the forward movement, reducing the crash forces reaching the child, and a two-point attachment to minimize forward rotation while anchoring the top of the child seat
Tangle Free, Five-Point Harness with 10 harness height positions (up to 20″) and three buckle positions for a snug and secure fit as your child grows
Harness Ultra Guard System (HUGS™) provides resistance to forward movement in the event of a crash
Compatible with SecureGuard which works with the vehicle safety belt in booster mode to prevent the child from sliding under the lap-belt portion of the safety belt during impact, thus minimizing the risk of abdominal injury (accessory sold separately)
Energy-Absorbing Foam Liner (EPS) absorbs and distributes crash forces
Energy-Absorbing Base deforms in the event of a crash to absorb impact forces
High Density Comfort Foam provides an extra layer of padding to gently cushion your child
Plush, Premium Cover Set with thick, underlying comfort foam provides extra comfort, encouraging your child to stay in the proper position
Armrests help provide a secure fit and a comfortable place to rest tired arms
Premium Lower LATCH Connectors for a quick and simple installation featuring a push button for easy release
Color-Coded Vehicle Belt Guides indicate the path and positioning of the vehicle lap and shoulder seat belt
Integrated Cup Holders are designed to fit common beverages such as 20 oz reusable water bottles
Durable and Washable Cover in mature fashions for the growing child
Harness-2-Booster converts to a belt-positioning booster seat
Certified for Aircraft Travel in Harness Mode
Made in the USA with global components
MSRP (USD) $279.99
Britax has offered to send one of my readers a Frontier 85 seat just like ours!!  I can't even tell you how excited I am that I get to host a giveaway for such an awesome prize!!!
Mandatory Entry: Follow me publicly via Google Friend Connect and tell me who you are hoping to win this for!  (If you don't do this one, the rest don't count!)
Extra Entries:
Like Britax on Facebook
Follow Britax on Twitter
Follow me publicly via GFC, on Facebook or via RSS/Email subscription (+1 each)
Tell me your most favorite Britax carseat cover print/color +1
Comment on any non-giveaway post (+1 entry per post, up to 5 entries total)
Share this giveaway on any social networking site (easy to use social share button at top of post) and leave URL- can be done up to 2x/day
Tweet this giveaway: "I want to #win a @Britax #Frontier85 #Carseat from @mamatomjr http://wp.me/p1qA6G-Nl #safety"
Enter to win a Britax Parkway SGL at Our Kids Mom (+1 entry plus you'll double your chances at a new carseat!!)
Like Budget Savvy Diva on Facebook – Tell her TMLHB sent you!! +1
Enter this giveaway at Saving Towards a Better Life +1 entry (till 3/25/11)
Follow Luxury Living, Frugal Style via GFC
Enter this giveaway at Living on Love and Cents
Like Mom on Dealz on Facebook
Like The Coupon Challenge on Facebook
This giveaway will end on April 15 at midnight, EST.  Winner to be drawn randomly. Open to US only.
I received a sample of this product to facilitate my review.  Opinions expressed within are my own.
0