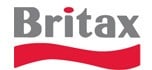 My baby just turned one, so that means that it's time to upgrade car seats. Of course I knew that I wanted a Britax. I have had other car seat brands, but none have ever compaired in quality, durability and comfort to my Britax. I currently own the Britax Roundabout for my 3 year old, and was so thrilled to try out the new Pavilion 70-G3 on my little guy. We HAD to get the matching Cowmooflage pattern of course. Besides, does it get any cuter than cowmooflage????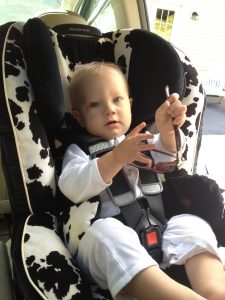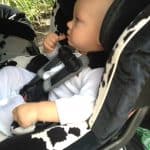 The number one element I look for in a carseat is SAFETY, and Britax does not disappoint. Just look at all these great new features!!
"Look for the new BRITAX HUGS™ with SafeCell Technology®, side impact protection, base with SafeCell Technology®, energy absorbing Versa-Tether®, and integrated steel bars. The ADVOCATE® 70- G3, PAVILION® 70-G3 and BOULEVARD® 70-G3 feature new BRITAX HUGS™ Chest Pads with SafeCell Technology®. These chest pads are affixed to the back of the car seat shell to ensure that they are properly positioned on the buckled child. SafeCell padding on the chest pads, identified by a honeycomb design, is engineered to compress to manage energy and create best-in-class resistance to the forward movement of a child.
All of the newly updated BRITAX convertible car seats continue to offer revolutionary safety features that are easy to see. For instance, all seats have a rigid shell with deep side walls that are lined with energy-absorbing foam to provide side impact protection. The ADVOCATE 70-G3, PAVILION 70-G3 and BOULEVARD 70-G3 offer a second layer of protection with energy-absorbing foam in the True Side Impact Protection head restraint that keeps the head, neck and spine aligned. Finally, the ADVOCATE 70-G3 includes Side Impact Cushion Technology®, a third layer of protection, with black energy-absorbing cushions on the child seat's exterior to reduce side impact energy by diverting 45 percent of the crash forces away from the seated child. These cushions also provide extra protection for the adjacent passenger. Additional visible features can be found on all updated BRITAX convertible car seats. Check inside the open-style base for honeycomb-shaped SafeCell Technology®, designed to compress in a crash, significantly lowering the center of gravity and counteracting the forward rotation of the child seat. Look on the outside of the seat for integrated steel bars that strengthen the seat's connection to the vehicle and Also, all the enhanced models have new labeling to identify BRITAX's Energy Absorbing Versa-Tether. The patented 2-point top tether with staged-release webbing anchors the top of the car seat to the vehicle and slows forward movement, reducing crash forces. These features, along with the side impact technologies, provide 360-degree protection for the child occupant.

In addition to the innovative safety features, BRITAX has designed a new convenience feature. The EZ-Buckle System keeps the buckle in a convenient, easy-to- reach forward position, making boarding a child faster and simpler. It can be found on the ADVOCATE 70-G3, PAVILION 70-G3 and BOULEVARD 70-G3 as well as the BRITAX ADVOCATE 70-G3, PAVILION 70-G3, BOULEVARD 70-G3 and MARATHON 70-G3 convertible car seats can be used rear facing up to 40 pounds and forward facing up to 70 pounds."
My Thoughts: I cannot rave about this carseat enough! It was super easy to install, my baby is very comfortable in the seat, it comes with the most advanced safety features of any carseat and it looks adorable! I do like how deep my child sits in the seat for added side impact protection. The harness system is outstanding. One of my favorite features is the EZ-Buckle system that keeps the buckle in the forward facing position. No more sitting on the buckle and fumbling around to find it while your child is squirming! I have been extremely pleased with this carseat and highly recommend it to anyone looking to upgrade. Because this seat has a weight capacity of 70 pounds I plan on getting a lot of use out of it. Products and Prices: Purchasing a Britax carseat is definitely an investment. However, you really have to consider the safety features, durability and quality of this seat. It really is a superior product and one that you will be glad you purchased. Britax offers several different designs, including the new Pavilion 70-G3. BRITAX ADVOCATE 70-G3 (MSRP: $379.99) PAVILION 70-G3 (MSRP: $339.99) BOULEVARD 70-G3 (MSRP: $319.99), MARATHON 70-G3 (MSRP: $289.99) ROUNDABOUT 55 (MSRP: $199.99).   One VERY lucky reader will win their own Britax Pavilion 70-G3!!!!!! (winner chooses design)
Loading Entry-Form…
…   "A sample of this product was provided to facilitate my review. All opinions expressed are my own."
0