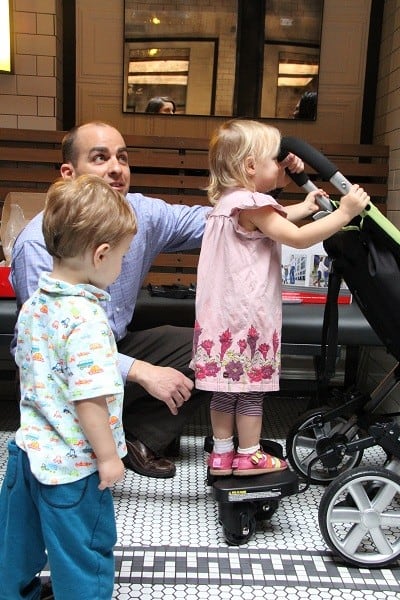 In March, I got to head to NYC to have brunch with Britax and check out some of their new strollers and accessories.  One of those accessories is one that we're still loving- and using- the Stroller Board.  The stroller board attaches fairly easily to most strollers and can hold up to a 50lb child…which means that you can have the option for a bigger kid to have a few moments rest when wandering around a fair, or an event…wherever you are.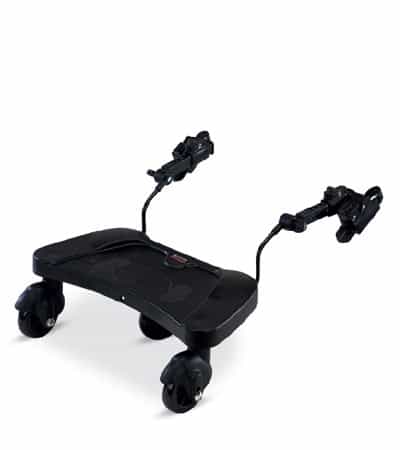 I LOVE that you can adjust the height- makes things easier since my kids are all about 6 inches apart in height.  The stroller board gives you an additional spot for a child to rest without having the bulk of a double stroller or second seat- for the kids who don't want or don't need a ride in the stroller, but maybe just want to rest a bit.  Having this at the zoo with us was a lifesaver!
The BRITAX Stroller Board easily attaches to most strollers providing travel options for additional children. Three wheels with independent suspension provide a comfortable and stable ride for children weighing up to 50 pounds. The quick release design enables easy removal and installation of the stroller board. The stroller board can easily be adjusted to accommodate your child's height. When not in use, the storage strap will hold the board up and out of the way.

Compatible with most strollers, including BRITAX B-READY (without Second Seat or Lower Infant Car Seat Adapter attached), B-AGILE, B-SCENE, B-NIMBLE, BLINK, and CHAPERONE strollers and BOB Revolution SE (single and duallie), Revolution CE, Sport Utility Stroller (single and duallie), Ironman (single and duallie), and Stroller Strides (single and duallie) strollers
Three wheels with independent suspension provide balance and child comfort
Quick-release feature allows the removal of the stroller board while the mounting bracket remains installed
Storage strap to position board out of the way when unoccupied
Attaches to horizontal or vertical stroller frames
Three way adjustable attachment allows the board to fit on most strollers
MSRP (USD) $89.99
Knowing that this stroller board is made from the folks at Britax who always put safety first made me want to try this product.  Having tried this product, and seen how useful it is, with my older kids, I love it.  Definitely a great option for families with more than one child!
Check out this video from the Britax Stroller Street Team!

I received a sample of this product to facilitate my review.  Opinions are my own.
0