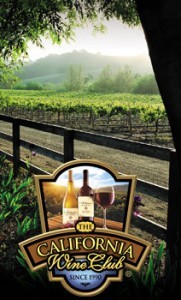 The California Wine Club is the first monthly club I've ever joined.  I may never leave.  Wine of the month, people.  Do you know what this means for people like me who are kind of clueless about wine and wine pairings for things?  We have help!  We have suggestions.  And, most importantly, we have wine delivered to our doorstep that's almost guaranteed to please the palate.  (Oh wait, it is.  They have a 100% guarantee on their wines!!)
I love wine- I love the idea of it, the taste of it, the ambience of it- although I struggle with selecting the right brands and flavors that I like.  I'm forever calling friends "Hey what was that wine you had xyz again?" but never brave enough to select my own options.   I'm not educated enough in wines, and at this juncture in life, I simply don't have the time.  The California Wine Club kind of does all that for me, so I can delay my education further….while enjoying some wonderful new wines from all different wineries all over California!
Aside from the whole "wine delivered to the front door" awesomeness (it was definitely an exciting package deliver  for ME!!), I think that its really, really cool that Pam & Bruce Boring take the time to hand pick each wine that is included in their Wine Club membership, because I think it gives a personal touch that other clubs similar may not offer- and kind of reassures the consumers that they will receive quality wines.  No private labels and no bulk purchasing.  Just quality wines from quality wineries, picked by folks just like you and me.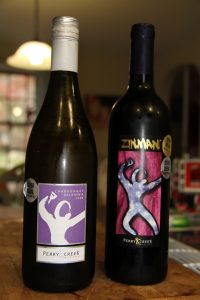 We received two bottles of wine for our first month's shipmen- both have some award stickers on them and both did not last long…we received  a 2009 Chardonnay from Perry Creek Winery and a 2008 Zinman Zinfandel, also from Perry Creek Winery.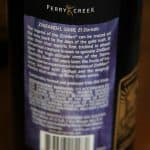 I am always hesitant to try anything that isn't a white or blush wine, and I think it has something to do with my weird association with communion wines and the meaning of that…but I decided to give this Zinfandel a go (interestingly WITH a burger) and it was really good!! Not my favorite- I love my whites, but definitely something I will be more open to trying again.  My husband liked this too, and he's not really big into any wines.  I have a few friends who simply LOVE Zinfandel and we shared with them and they were enamored of it.  You will want to chill this thoroughly, it has a bit of a different taste when it isn't chilled properly.  (Or maybe you prefer it not chilled…I'd do one or the other, but don't serve it in between).
The California Chardonnay was awesome.  I had 2 glasses (that's a lot for me but hey- I wasn't driving and it was yummy) of it and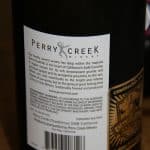 enjoyed both thoroughly.  Not too dry and not too sweet, a perfect pairing with the chicken dinner we had when we opened this bottle, my husband and I, on  a rare night we did a dinner "date" at home after the kids went to bed, enjoying a quiet meal while they were upstairs asleep.  Its also yummy without a meal while watching a movie, in case you wonder….
Since 1990, club owners Bruce and Pam Boring have traveled California's wine country searching for limited-production wines from small, family-owned wineries dedicated to the art of making fine wine. Whether for yourself or a gift, CWC membership is an adventure in wine tasting that will not be experienced anywhere else.

They journey not only to Napa and Sonoma, but to less-explored wine regions like Santa Barbara, Monterey, the Sierra Foothills and beyond.

Membership costs nothing, you can cancel anytime, and every wine is 100% guaranteed.

More than three-quarters of California's 2,100+ wineries are small, boutique, mom-and-pop operations whose wines never travel beyond their local markets and private customer lists. Come discover them with us!
There is even an app for this, friends.  Yes, and its FREE.  Its like they knew someone (ahem-me!?) who likes wine, and the idea of wine but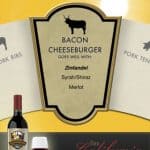 hasn't a clue how to pair what with what.  This is genius.  Or at least, its genius to people like me.  Pair your wines by menu item or course, it has a suggestion or suggestions to go with anything.  The recommendations aren't simply from their 'library' of wines, but rather, as you can see in this photo, different kinds of wine…so even without being in the club you can reap the benefits of this app.  This sure makes decisions less stressful for people like me who are in the dark- or just want to try something new and different!!   My husband was really impressed that they were thoughtful enough to suggest  wine to go with a bacon cheeseburger.  If only someone made wine with bacon IN it, he'd be over the moon.
Want to check out the California Wine Club for yourself?  Save 10% on your order when you use the code: mamaloves at checkout
One of my readers will win aone-month subscription to The California Wine Club!
I received a 3 month membership to this club in exchange for my post through my affiliation with Mom Spark Media.  All opinions are my own.
0