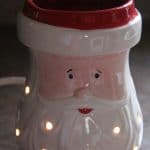 I love scented candles.  What I'm not a fan of is having to remember to extinguish flames, nor of the residue left on my walls and in the air from burning candles.  I love having fun scents to fit my mood, the season, or the holiday, and I love when I walk into a room and can smell a candle.  The thing is, I'm not so great at remembering to blow OUT candles.  It used to make Mr. Bargains crazy, not to mention that its a fire hazard.  So, for a long time, I sadly wasn't having any sort of scented goodness in my house, because I didn't know about products like the Wax Warmers from Candlewarmers.com.  No flame.  No fire.  No risk.  This Mama gets her smelly candles and Mr. Bargains doesn't have to follow around blowing candles out.
Candlewarmers.com sent us two different warmers- a Santa and a Snowman.   The Santa sits on my kitchen counter and has for weeks- I'm more than ready for the holiday season, scents and all!!  The Snowman warmer plugs into the wall and that lives in the living room right next to the fire place area- safe from exploring toddler fingers since it's enclosed behind the fireplace gate.  The entire downstairs has a delightful but not too strong holiday fragrance, and the warmers themselves add a splash of holiday decor (don't worry, friends.  I have warmers that are ok for year round use as well. I'm a big scented wax fan I guess!)  Why I like this product: its so simple to use, SAFE to use, and easy to change the fragrance or the warmer depending on your decor, your mood, the season or the holiday.  They are fairly affordable for gifts and really do make a wonderful gift for just about anyone!!  They do also have wicked candles and accessories for those of you who are better at remembering to extinguish flames, or just prefer to burn your candles. 
Got candles? Love wickless candles?  Love fragrance?  Candlewarners.com probably has a warmer, a candle holder, and a scent to fit just about anyone's decor at pretty decent prices!! These make wonderful gifts!!
Candlewarmers.com originated in 2001 and has grown rapidly since. Candle Warmers, Etc. commitment to enhancing the home with affordable and safe candle warmer appliances and accessories has contributed to its success with several varied product lines.  Among the Candle Warmers, Etc. product categories are:  traditional plate candle warmers, candle warmer lamps and lanterns, the Jamie Clair line of wicked/wickless candles, candle warmer lamp accessories.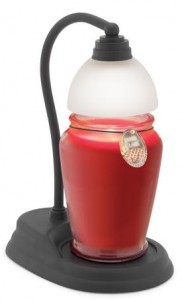 Candlewarmers.com has offered to send three winners selected from one rafflecopter across all of the gift guide blogs each an Aurora Candle Warmer Lamp(winner's choice) with winner's choice of candle fragrance- a $54.98 value!!
Enter the rafflecopter form below to win one of THREE Candlewarmers.com prize packs!! 
I received samples of this product to facilitate my review.   Opinions are my own.