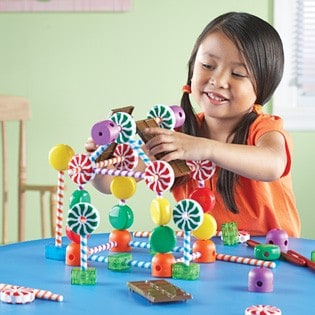 We have the most delicious looking building toy set I've ever seen – the Candy Construction set from Learning Resources.
Build candy structures, thinking skills and fine motor strength!
Create using chunky, durable candy pieces in a variety of fun, familiar design
Includes Activity Guide with illustrated, step-by-step building directions
Largest piece measures 7″L x .5" in diameter
Set of 92 pieces includes:


32 Small, medium and large swirl sticks
8 Green swirl connectors
8 Red swirl connectors
8 Gumdrop pieces
12 Colored disks
8 Green connectors
8 Blue connectors
4 Bendy twists
4 Chocolate panels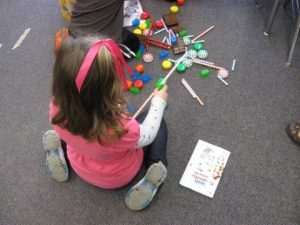 The kids love how easy they are to use as well as the fun bright colors.  With 92 pieces, there are plenty of pieces for multiple children to play with and build with, and still have enough that no one is fighting or arguing over that last piece.  This has now become the new "favorite" play item, both at home and in my son's kindergarten  classroom.
The instructions come with illustrations- which is something that I love.  Full color illustrations means the kids can follow the instructions and be able to successfully do so without having to read- which is often the source of frustration in my house.
It's also a refreshing change of pace from many of the building toys we use all of  the time and it's put a new spin on the kids' play and conver
sation while they are building.   This is definitely going to be one of my holiday toys I keep long past when my kids are "little" enough to play with them, too.
One reader will win a Candy Construction set of their own!
Loading Entry-Form…
…


I received a sample of this product to facilitate my review. Opinions are my own.

0