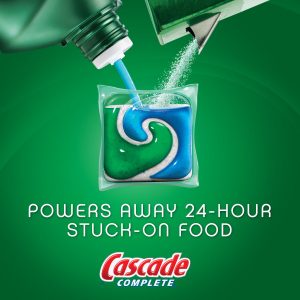 We've ALL had a time when we didn't get to scrubbing a dish or pot or pan and had to face the mess the next day.  Usually this means scrubbing, scrubbing and scrubbing some more, a little soaking, and maybe doing all of this over again.
I found something that will make those of us who space out and forget, get lazy, aren't home to clean it- doesn't matter- Cascade's Complete ActionPacs really do get ALL of that mess off of your dish/pot/pan!  They sent me a sample and said to leave the pan overnight, which I did (and forgot to take photos, duh!) and when I saw the dish the next morning, I distinctly remember putting it into the dishwasher thinking "I'll be scrubbing this later for sure!!)
But I didn't have to.  When I opened the dishwasher door, I was met with sparkling clean EVERYTHING- there wasn't a speck of mess on that white dish I'd let sit overnight with baked on mess from dinner the day before!!  Amazing!
Not one to believe the first time, we did this again (and again forgot to take photos).  Same result.  The third time's a charm- and no post-dishwasher scrub for me.  Oh, happy day!  You guys know I do prefer natural products but I'm ok using more mainstream products like this on occasion especially if it saves me time and energy!
Want to try the Cascade ActionPac for yourself?  You can get samples for $1 or less at Walmart.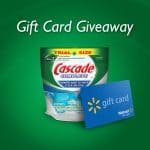 You can also win a sample pack from me, right here- simply leave a comment with your name.  5 will win!  ONE winner's trial pack will also have a $15 Walmart Gift Card tucked inside for a surprise!!
Want extra Entries?
Follow me via RSS reader/Email subscription or Facebook +1 entry each
Share this giveaway on any social networking site: #win #Cascade #ActionPacs for your dishwasher and stop scrubbing dishes! 5 winners (1 with $15 @walmart GC) http://wp.me/p1qA6G-1QR (can be done 2x/day at least 1 hour apart)
This giveaway will end June 13 2011 at midnight, EST.  US Only. Winners to be chosen randomly.  Winners have 48 hours to respond or a new winner will be chosen.
The Cascade Complete All-in-1 ActionPacs kit, the 6 trial packs of Cascade Complete All-in-1 Action Pacs, and the $15 Walmart gift card to give away were provided by P&G through MyBlogSpark.
 [ad#glam between posts]
0