This post about a cat not using litter box anymore is sponsored by Precious Cat on behalf of the BlogPaws Blogger Network. I am being compensated for helping spread the word about Precious Cat's Cat Attract formula, but This Mama Loves only shares information we feel is relevant to our readers. Precious Cat is not responsible for the content of this article.
After I first learned of a new cat litter specifically designed to encourage cats to use the litter box, I was anxious to try the Cat Attract litter. Not because our cats don't use the litter box, but because we have 2 cats who have a 'thing' for our basement litter box, but they aren't down in our basement much of the time. If they aren't where they use the loo, chances are, problems can and will arise. Please note that when I say they have a thing, I mean, they will stand at the basement door and meow.  Then they'll rub against the door.  Lloyd, aka Moose Kitty, will often run INTO the door.  I think he's trying to ram the door down?  Not sure. Regardless, kitties don't need to be in the basement all the time.  It's cold down there and they can hang up here with their humans. We're fun! And warm! They both have spent a lot of time whining and meowing to get down and use that litter box downstairs, which was intended for just in case the cats got stuck down in the basement for a long period of time. We didn't realize they'd start to prefer that box!
Both of our cats have avoided the litter box on our main floor for a long time and we don't really want them in the basement. So, as you can see, this kind of caused a bit of a problem. When I was asked to check out Dr. Elsey's Cat Attract litter, I hoped it would at least encourage Lloyd and Rosabeth to give the upstairs box a chance. To my delight, within 2 days my cats were using the upstairs litter box by choice. The frequency that we have to scoop out the waste from it has more than quadrupled, and neither cat is pawing at the basement door or meowing to go down there. I'm sold, and will be buying this again.
Now, I know we're fortunate and that many have far more serious (and frustrating) issues with not using a litter box- at all.  Lloyd and Rosie have both missed the litter box, but only rarely. When our old cat Raistlin was alive, she would have been a cat we used the Cat Attract for.  Raistlin woulld pee just about anywhere BUT her litter box for a really long time and it made us crazy.  We never would have re-homed her… but the fact is that many cats are given up because of litter box issues and one little switch to a new litter literally could end up being a life or death matter for cats.  That"s kind of a big deal, and for those who are frustrated with a cat having litter box issues (or lack of issues I suppose), definitely worth a try.
Cat Attract has saved cats from going to the shelter or being euthanized.
It really can save lives. Check out other litter box solutions: http://blogp.ws/LitterSolutions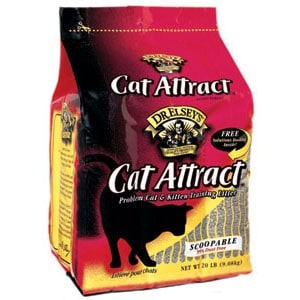 So what is it about this litter that stands out?
Well, it clumps hard.  Really hard.  It doesn't crumble when you take it from the litter box. That alone is a big deal.  Very few if any little bits fall back into the litter box.  So the smell isn't sticking around.
Cat Attract is non toxic (super important) – it's made of natural herbs.  No chemicals, no deoderant. No catnip. The formula is actually patent pending. It contains Chlorophyll which provides a natural odor control.  Pretty cool, right?
I'm about to place an order of more Cat Attract litter.  I told you I was going to buy it again, and I'm putting my money where my mouth is.  It's working well for us, it's non toxic and keeps the litter box smell down. That's a win for everyone in my house!
 One reader will win a 20 lb bag of Cat Attract Litter!
The Cat Attract giveaway, across all participating blogs, is limited to one winner per household. Winners must be 18 years of age and reside in the U.S. Winners will receive an email to provide delivery instructions. Prize delivery can take 6 – 8 weeks
Related articles