I still miss Friends. I do. I know it's been gone a long time but I loved that show, I loved the cast and the characters and I kind of came into my own as an adult while watching Phoebe, Chandler, Monica and the gang. I grew to love coffee while watching Friends. Plus, it was a comedy, and that's my favorite kind of show to watch. Thursday nights were friends of mine- so many great shows, and so many laughs. I am being compensated by Eight O'Clock Coffee for my participation in this campaign with the Mom It Forward Blogger Network.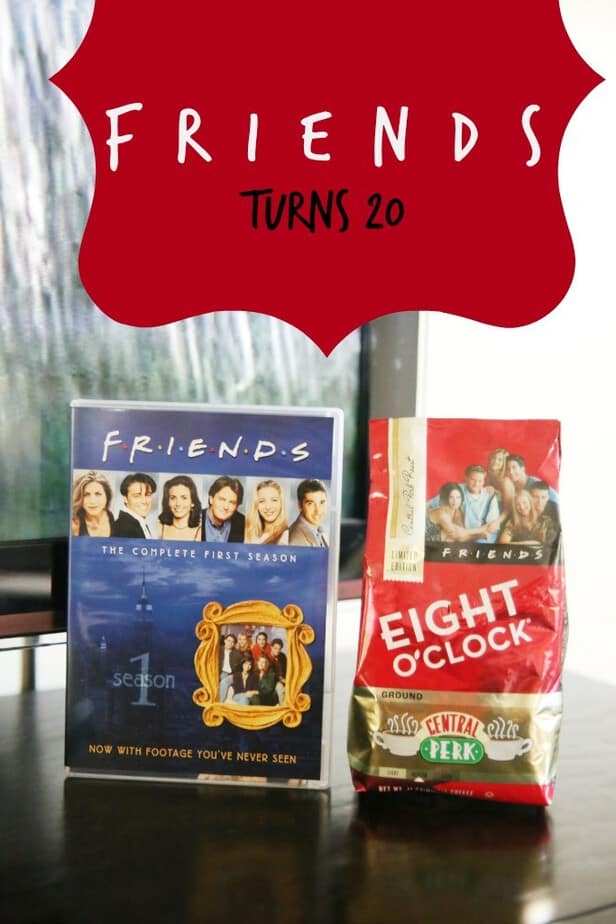 And hairdos! How many of us wanted The Rachel? I know I did! Ok wanted and had. I won't lie. Maybe more than once. But it was a rockin' do.

I can't even BELIEVE it's been 20 years since the debut of Friends! (Does that mean I have been an adult for 20 years? Surely not!) And 10 since it went off the air…. I keep hoping for a reunion of sorts, but that hope grows dimmer as the years pass.  Thank goodness for reruns and DVD/BluRay to get my fix!!
I do have one fun 'perk' to share- remember how Joey, Ross, Rachel and the gang hung out at Central Perk? And how approximately tons of our favorite scenes took place in that awesome coffee shop with the orange couch …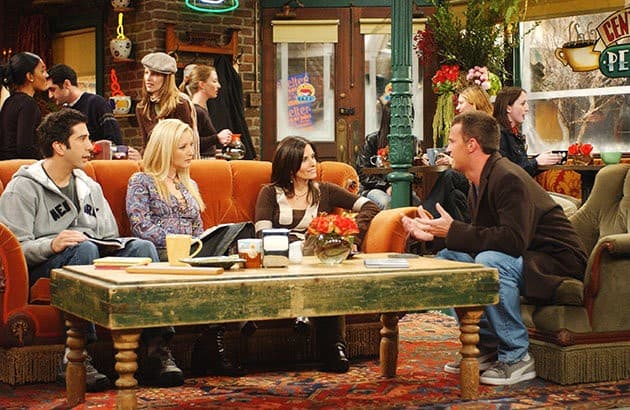 How cool would it be to VISIT Central Perk? You can! For a while, anyway…Located in Manhattan's SoHo neighborhood at 199 Lafayette Street (at the corner of Broome Street), the Central Perk commemorative pop-up shop will serve free cups of Eight O' Clock Coffee. Central Perk opened September 17th and will remain open through October 18th.  Eight O'Clock Coffee is running what may be the coolest campaign EVER right now, because they actually made a mock up OF Central Perk and it even has Friends memorabilia, like Joey's Soap Opera Digest cover, Smelly Cat Litter, Monica's engagement ring and tons of other cool stuff.  Gunther himself was there for the opening day and is purported to be making a few other appearances. Smelly Cat performances will also be held at times.
While at Central Perk,  you can enjoy Limited Edition Central Perk Roast created by Eight O'Clock Coffee and Warner Bros. – a variety also available at grocery and mass merchandise stores nationwide and online at EightOClock.com/friends for approximately $6.99. (Guess what my new favorite coffee is? Drinking it right now!)  The Limited Edition Eight O'Clock Central Perk Roast is a medium coffee house roast made with carefully selected, high quality, 100% Arabica beans, for which the Eight O'Clock brand is known. Eight O'Clock Coffee is made with 100% Arabica beans, the Eight O'Clock Coffee portfolio features a full line of great tasting gourmet coffees in whole bean and ground form. The brand offers fourteen varieties and blends ranging from light to dark roasts.
Eight O'Clock Coffee is continuing the celebration of the Friends 20th anniversary with a variety of fun activities and giveaways at the pop-up shop in New York City on September 29, National Coffee Day, an annual celebration of consumer's favorite morning beverage, coffee!
Eight O'Clock Coffee fans throughout the country looking to join in on the National Coffee Day celebration can visit Eight O'Clock Coffee's Facebook page for a chance to win coffee prizes and a trip to LA to visit the Warner Brothers studios! Could that BE any more fun???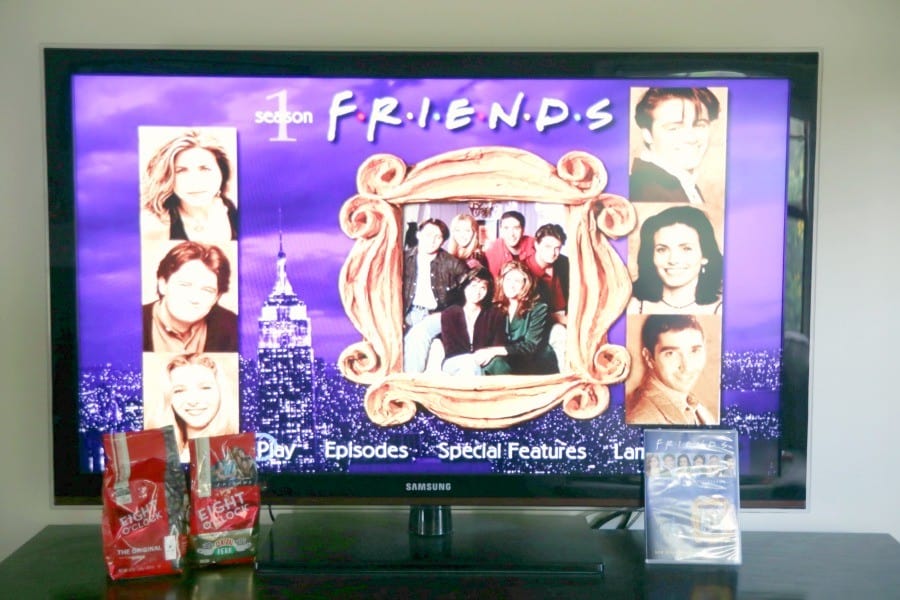 Special Offers Available Now!
• Save $3 when one Eight O'Clock Coffee bag (11oz. or larger) and one complete season of Friends on DVD are purchased together.
• Purchase any three bags of Eight O'Clock Coffee and receive a FREE special limited edition Eight O'Clock Coffee Central Perk mug
What's YOUR favorite Friends memory? I think mine is a tie- the episode when Monica has the turkey on her head… and when Ross is trying to move the couch on the stairs and yells "PIVOT" 18343 times!
Follow Eight O'Clock Coffee on Facebook and Twitter