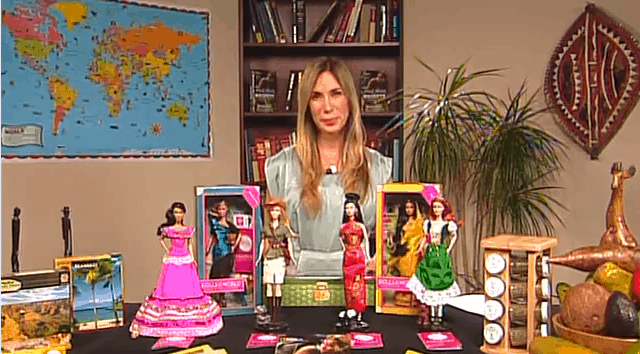 School is almost out for summer and while many consider this season the perfect time for family vacations, your funds may disagree! I know that my funds certainly do- and while we'd love to travel the world with our children to explore and discover other cultures, we simply aren't able to do that at this stage of our lives. That said, my children are very curious, as most are by nature, and I do like to encourage that curiosity whenever possible.  Learning about other cultures doesn't have to cost a lot of money, nor does it have to include expensive travel plans, thanks to the creative thinking of people like Mireya Mayor.
On Friday, June 8th, two-time Emmy Award nominee, National Geographic Wildlife correspondent, and mom of four daughters, Mireya Mayor, chatted online with several bloggers about how to take your children on a cultural trip around the world…all from the comfort of home. I wasn't able to attend the chat live but was able to send my questions in ahead of time so that I could still participate.  According to Ms. Mayor, we can embark on cultural adventures all the time- with the foods we cook, the games we play, doing puzzles with animals or landmarks from an area- all of these things can inspire curiosity in our children.  Even the Barbie "Dolls Around the World" line can help- each box is loaded with information about the country, even with phrases and words used frequently in the culture.  The Barbies come dressed in traditional apparel from the country and each has a small animal friend to go along with her.
As an explorer, Mireya gets to show people parts of the world that they may never get to see. Her goal is to encourage children to appreciate what's beyond their surroundings, expose them to new places, cultures and the wildlife that live there, so future generations can respect and enjoy them for generations to come.

Mireya will bring viewers tips and ideas to help encourage children to explore the incredible beauty the world has to offer, experience new cultures and learn the significance of diversity which will lead to respect and appreciation for our planet.

Here are a few tips Mireya discussed:
Ways to spark your child's interest in travel
Make your home inspire your kids to explore
"International night" family dinners and other fun family activities that make different countries more interesting
This summer, Barbie re-launches the largest and longest-running series in their collection – Dolls of the World – Ireland, Australia, China, Argentina, Mexico, India, Chile and Holland.
My questions for Ms. Mayor, which you can see her response to and more in the YouTube video below:
Would you consider doing a book or kit that includes all of these tips and some directional cards for activities, recipes, etc?  My first grader has been doing this exact kind of program this year in school with her teacher but I think a lot of parents would be very receptive to having a kit they can purchase that includes suggestions for crafts, recipes, etc. 
Mireya thinks this would be a great idea but suggested that instead of waiting for a book to come out that parents and teachers work together to each contribute an idea or suggestion to be discovered throughout the year.
I think this is a really fun way to also help our kids discover more about our own families- just thinking about what I could send in to share or suggest with the classroom makes me realize that my own family history includes cultural components that I've not really talked in depth about with my children- and reminds me too that all adventures start at home.  In my family, we're Scottish, Cherokee Indian and Lithuanian.  In my husband's family, he's got Polish and Italian roots.  There's a lot we could share simply about the cultures our ancestors come from…to start.  Holiday traditions and family meals are a great way to get the conversation and interest sparked!
What age did you start travelling with your children?  
Ms. Mayor brought her daughter with her to Madagascar at the age of 9 months!!
What are the must-include items when packing to travel internationally with small children?
Ms. Mayor recommends bringing along familiar toys that will occupy your child on long train, plane or car rides.  Bring along necessities- you may not know how or where to find fever reducers in a foreign country at 2am.  Be prepared.
Javascript must be enabled to enter this giveaway. Learn how to activate Javascript by
clicking here.

Loading Entry-Form
I think Ms. Mayor has some really great tips for travelling with young children.  What do you think?
One reader will win a Barbie: Dolls Around the World Doll!
To enter, simply fill out the Giveaway Tools form below.
Javascript must be enabled to enter this giveaway. Learn how to activate Javascript by
clicking here.

Loading Entry-Form
I received a promotional item to thank me for taking the time to share this post.  Opinions are my own.