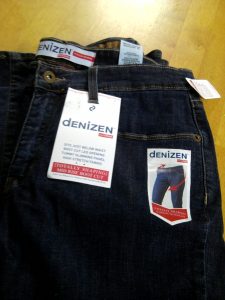 I really really wanted to post that I have these awesome new jeans and how great they fit me.  I DO have awesome new jeans, and they fit my legs really well.  The thing is that they don't um…well, with my little setback on my weight loss journey last month, I gained a few pounds back and I can't really wear these new dENiZEN™ jeans quite yet.
If you aren't aware of dENiZEN jeans, they are made by Levi's and sold at Target.  Yes, friends…another justification to go to Target.  (I am awesome for justification, aren't I?).  They make dENiZEN jeans for men, women and children.  My pair is an all around slimming pair (and apparently, there isn't technology in jeans yet for instant weight loss of 10 lbs) and I cannot wait until I drop a few pounds and can wear them in public. 
These jeans are made by Levi's, so you already know they are made to last and cut well.  The lower price point on these is what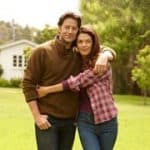 grabbed my attention, because clothing – and jeans, which my husband wears to work, are expensive, and I'm all about finding great quality products at affordable pricing.  The bonus?  These jeans are so so so comfortable.  I can't even wear them in public (yet) although I'm close…but oh, do I love them.  I love them so much I've already grabbed a second pair for me and one for my husband!!  Great quality, great construction, great design, and a GREAT price.  What more do you want from your jeans?
Follow dENiZEN America on Facebook- stay up to date with their latest products and get special offers and giveaways!
This is a Team Mom review.  Opinions are my own.
0