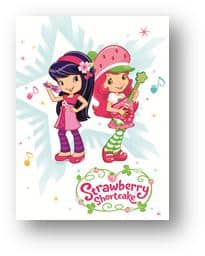 I grew up watching (and loving) Strawberry Shortcake and all of her scrumptious smelling friends. I'm excited to meet Cherry Jam and share this giveaway with you!
Calling all Strawberry Shortcake Fans! There is a new face in the Berry Bitty City!
Cherry Jam, a singing megastar makes her debut this Saturday (November 19) on "Strawberry Shortcake's Berry Bitty Adventures," with a series marathon that starts at 8am EST on The Hub. Cherry Jam, a musical sensation known far and wide, arrives in Berry Bitty City! There, Strawberry Shortcake and her friends will prove that Cherry Jam has much more than just superstar fame. Not only does Strawberry Shortcake gain a brand new band-mate, but cheery Cherry will fit right in as Berry Bitty City's music teacher, voice coach, and all-around fabulous friend!
To celebrate Cherry Jam's debut, we will be hosting a "Cherry Jam- Cherry Ring Pop" Giveaway. (3) Lucky winners will not only win the cherry ring pop in Cherry Jam's honor, but an gift basket of assorted ring pop flavors to represent Strawberry Shortcake and all her friends!



I will receive a sample of this product in exchange for my post. Opinions are my own.
0