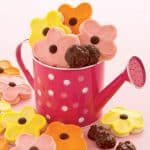 Cheryl&Co.® sent us an adorable pink polka dot Watering Can chock full of adorable and delectable goodies.  Whimsical sugar cookies shaped like flowers in pink,yellow and orange buttercream frosting were the first goodies we saw upon opening the packaging, and as we ate more cookies we noticed some milk chocolate pretzel clusters.  As if whimsical cookies weren't enough, the sweet and salty combination of the pretzels was just over the top.  I have a sister who can pass on sweets- unless they have a salty component- even she was not immune to the goodness of the pretzel clusters.
Lucky friends were over when this package arrived, and we decided that we might as well enjoy them together, because, like my mom always said, all things are better when shared with friends.   Speaking of friends- that's how Cheryl's actually got started, back in the early 1980's, when Cheryl and her roommate Caryl were in college and started their first shop with just six kinds of baked goodies and soda pop sold.  It didn't take long for them to grow into what they have become today- they have retail stores, internet business and a business gift division.
After eating some of these cookies, I can totally see why Cheryl's is famous for their buttercream frosting.  They are DELICIOUS and the frosting is so yummy.  I love buttercream frosting, and put it with something pink and whimsical- you have made THIS mama happy!!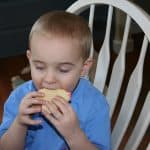 The adorable watering can isn't the only option Cheryl & Co. has for Mother's Day-they have options for just about any holiday or occasion you can think of.  I think I gained 5lbs just browsing the Easter and Mother's Day goodies!!  The goodies aren't limited to cookies and chocolate pretzel clusters, either.  There is a wide range of products that will suit just about any palate!
I really like that they've included options for different price ranges on their site.  There's also a good variety of packages with different containers/packaging of product, and the variety to me seems to include something that will please the sophisticate as much as the mom who loves whimsy like me.  I love my watering can because I can keep using the can itself and enjoy the pink-ness- I'll be redoing the girls' room this summer and that's definitely going to be used in their room somehow!!
Cheryl&Co.® has offered to send one of my readers their very own Watering Can full of goodies just in time for Mother's Day!
Mandatory Entry: Leave me a comment with your name so I have a way to contact you if you've won!  (That includes a valid email!!)
Extra Entries:
Visit Cheryl's and tell me something else you'd love to try (yummy treat or package)
Follow me via GFC or like me on Facebook +1 entry each
Like Cheryl's Cookies on Facebook
Share this giveaway on any social networking site: @CherylsDesserts makes an adorable watering can full of goodies & I want 2 #win one from @mamatomjr http://wp.me/p1qA6G-1cp" (can be done 2x/day at least 1 hour apart)
Enter this same giveaway at Living on Love and Cents +1 entry
Enter this same giveaway at Our Kids Mom +1 entry
Enter this same giveaway at A Mom's Take +1 entry
Enter this same giveaway at Mommy of 2 Little Monkeys +1 entry
This giveaway will end on May 3, 2011 at midnight, EST.  Winner to be chosen randomly using "And the Winner is" plugin.  US only.  Winner has 48 hours to respond to initial contact or new winner will be chosen.
I received a sample of this product to facilitate my review.  Opinions expressed within are my own.
0