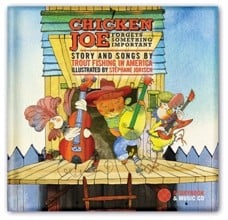 Fun songs, engaging characters, silly names, themes of friendship and a whole lot of silly make for a GREAT package in Chicken Joe Forgets Something Important Book and CD combo!  This was an instant hit with all three kids- and passed the reading aloud test with Mr. Bargains.  The stars were aligned when this book and cd were created.  The humor speaks to all ages and its really just plain fun to read the story aloud or listen to the music in the car!!  Its hard to not want to find out more about Chicken Joe who is actually  a cat!!
Chicken Joe, the cat who sleeps in the hen house, is happily dreaming about rock and roll. A rooster's raucous crow wakes him up way too early. Everyone on the farm knows today is a special day, but in his sleepy morning haze, Chicken Joe can't remember just what it is. Even Joe's best friend, a city dog named Miss Kitty, won't tell him. Find out why this is Chicken Joe's big day in Chicken Joe Forgets Something Important, the latest book-and-CD release from The Secret Mountain (September 6, 2011).  
The hilarious sequel to the first My Name Is Chicken Joe book and CD that Trout Fishing in America released with The Secret Mountain in 2009, Chicken Joe Forgets Something Important offers gentle messages about friendship and forgetfulness. After all, cats who need 16 or 17 hours of sleep each day are bound to miss a few things going on in the barnyard. They need a little help from their friends.
 
The new story, written and spryly narrated by Trout Fishing in America's Keith Grimwood and Ezra Idlet, is illustrated by Stéphane Jorisch. The spoken-word tale is followed by 11 original songs relating to the story, from the rousing "Rock and Roll Roosters" to the lush and bluegrassy "Through the Pines" to the deep and wistful "Where Did Everybody Go?"  These new songs carry on the tradition of Trout Fishing in America, a nationally touring acoustic/folk rock duo whose music has garnered four Grammy nominations and legions of devoted fans.  The characters in the story and all of the songs were inspired by real people and animals in Ezra and Keith's lives. The song "Hello, My Chicken Thinks He's a Dog" was written during a workshop with 6th graders in their home state of Arkansas.
 
The Secret Mountain is dedicated to the creation of children's books, videos and music of the highest quality. The French imprint – La Montagne Secrète – is considered to be one of the most original and innovative children's publishing houses in Canada and France. The company recently made its United States debut with music, DVDs and books.
One of my readers will win Chicken Joe Forgets Something Important!
 



I received a sample of this product to facilitate my review.  Opinions are my own.
0