This is a sponsored post written by me on behalf of Cottonelle.
Most of us have heard that song "All I want for Christmas is…." you?  There are a lot of songs. And a lot of things we may want.  Peace on earth? Sure.  Goodwill toward men?  Yep.  My 2 front teeth?  Got those, happy to keep them…. but there are OTHER things we want for Christmas.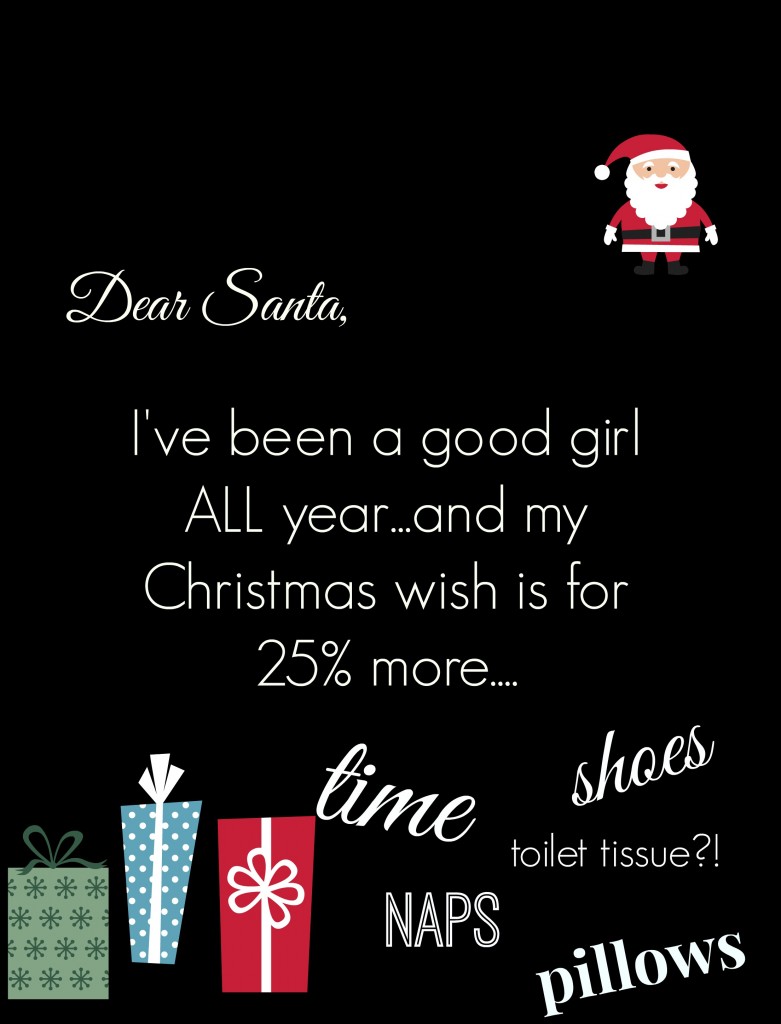 Or maybe I should say, want a little more of.  Like, say, 25% more of?
The things I'd like to have 25% more of?
Pillows.  I love pillows.  Especially when they are beat up and I can squish them into the perfect shape.  Win.  There's never too many pillows.
Naps. Any nap is a bonus, but I'll take 25% of the approximately 0 naps I average per week.
Sleep.  It's holiday time.  Presents to be bought (mostly), wrapped (not started), and made (oy.  What have I gotten myself into!?).  Do you know what I could do with 25% more sleep?  (I do. I'd get MORE behind!! )
Time. I guess this is my big one. With 25% more time, just for this month, I could get my wrapping, making, baking and crafting done AND get my beloved sleep. And maybe naps. Win!
Also, shoes.  There's never enough shoes.  Ladies, imagine what fun there would be with 25% more shoes in our closets?
I also want more toilet tissue.  Specifically….25% more toilet tissue.  You may not know this but I have a fear of running out of toilet tissue.  And we buy it at BJ's stores- so I get like 36 rolls at a time.  Times 2.  If we don't have a spare 36 pack, I get all anxious and go get some more. I think it stems from being pregnant and running out exactly one time.  Panic set in.  (I wasn't the most rational pregnant person).  I dont' want to run out nor do I want to have the WRONG TISSUE.  So I'm happy that Cottonelle is giving us 25% more tissue.  I'm happy, and when mama's  happy, we're all happy.  Seriously.  Should you ever want to get me a hostess gift?  Now you know.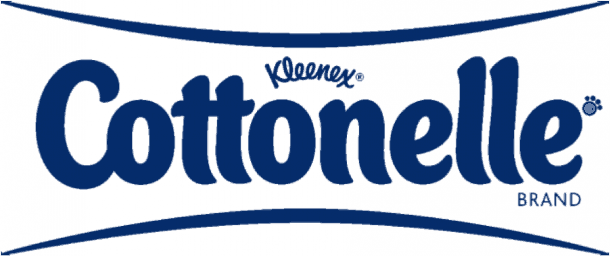 That's right, my friends.  Cottonelle Clean Care's got my whole "more is better" attitude and it ROCKS my socks off (oh, speaking of, I'd like more socks, please and thank you. Mine are all holy and falling apart).  25% more sheets of tissue ON THE ROLL!!  You get more sheets for the same money. More money in your pocket, for things like….
presents
spa time
cookies
wrapping paper
shoes
boots
other shoes
other boots
and maybe other necessities.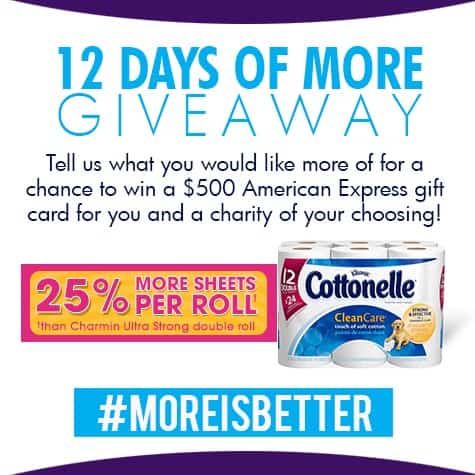 Since Cottonelle agrees that more IS better, they are giving someone more cash! That's right, someone will win $500 dollars.  Five.Hundred.Dollars.  ANDDDDD Oh, did I mention that this is a DAILY thing?  Yea. From 12/9 to 12/30, One winner (from all 30 blogs hosting these giveaways) will be selected daily to receive a $500 American Express gift card for themselves and a charity of their choosing. Winners will be announced daily on the SITSGirls Facebook page: https://www.facebook.com/SITSGirls.
ENTER TO WIN THE MONIES BELOW.

a Rafflecopter giveaway

This is a sponsored post written by me on behalf of Cottonelle.
0