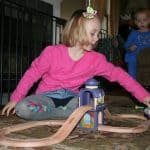 I don't think I could possibly ever count how much time my family has spent in the past 3+ years building train tracks, rebuilding train tracks, racing trains, making loopdeloops, bumpy tracks…if it is related to wood trains, I can almost guarantee you that it has been played with for dozens upon dozens of hours.  You'll notice I didn't say the kids have played…because, quite honestly, it's us, too!  We love it.  Our living room is 21 feet long- quite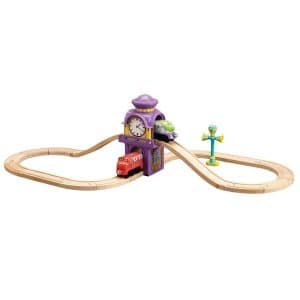 often, much of that is taken up by train tracks going this way, that way, around chair legs, under the ottoman…the rule around here is, at bedtime, you can leave the tracks but any trains or accessories not ON the tracks has to be put away.  We actually tried a train table for oh, about a month.  It never worked.  The kids wanted more space to build and we decided to pass it along to a friend because we never used it.  (Well, the kids would stand atop it and jump, but that's not train related!!)
While I love our wood trains and track, nothing has really excited me enough to want to purchase it lately…although sets like the Chuggington Over & Under Starter Set from Learning Curve have kind of changed that.  The set comes with 25 pieces- including a 2 story clock tower, Vee, Koko and Wilson along with Chuggington track, which fits with every brand of wooden train track we own but has its very own look…which THIS mama LOVES!!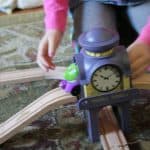 The kids dove into this box.  I could not open it fast enough!  Once I got it out, Busy and I quickly got the track assembled as the directions showed.  I managed to snap these few photos and realized the kids wanted me to move.  I was in their way.  They wanted to make their own track layout, and apparently, I was sitting where the biggest loop was to be placed.  That was that.  The Chuggington track and trains have found their new home, nestled snug in with all of our other wooden train friends, and the accessories.  The Bargains family train collection has grown.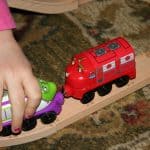 Aside from the different look of the track pieces, I love the vibrant colors of the Chuggington trains- bright and cheerful looking, just like the train characters are on the show.  Of course Vee is included, because, after all, what fun would a Chuggington anything be without Vee?  My poor husband is almost always instructed to "BE VEE!!" and give our little trainees their Badge Quest missions for the day, so at least he has a figure he can "be" when we're doing our track layouts.  Even the Baby gets in on the Chuggington fun.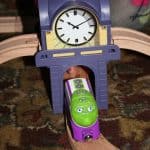 One of my readers will win their own Chuggington Wooden Railway Over & Under Starter Set!
Mandatory Entry: Who is your favorite Chuggington Chugger?
Extra Entries:
Like Learning Curve on Facebook +1 entry (leave a comment on their wall or reply to another comment and leave the URL of your comment +1 entry)
Like Chuggington on Facebook +1 entry (leave a comment on their wall or reply to another comment and leave the URL of your comment +1 entry)
Follow me publicly via GFC, Email Subscription or RSS Reader +1 entry each
Comment on any non-giveaway post +1 entry per comment, up to 5 comments
Enter this giveaway +2 extra entries (until 4/11)
Share this giveaway on any social networking site: " I want to #win the @Chuggington Over&Under Set from @mamatomjr http://wp.me/p1qA6G-Wt" (can be done 2x/day at least 1 hour apart for each share site)
This giveaway will end on April 25, 2011 at midnight, EST.  US only.  Winner to be chosen with "And the Winner is" plugin.  Winner has 48 hours to respond to initial contact or a new winner will be chosen. Good luck!
I received a sample of this product to facilitate my review.  Opinions expressed within are my own.