This post brought to you by Cooper Tire. All opinions are 100% mine.
I paid over $4.00 for gas yesterday.  OVER $4.00.  Awful. Gas is expensive.  Wouldn't FREE gas for a year be just awesome? I would love it. I think someone should give me a year of free gas.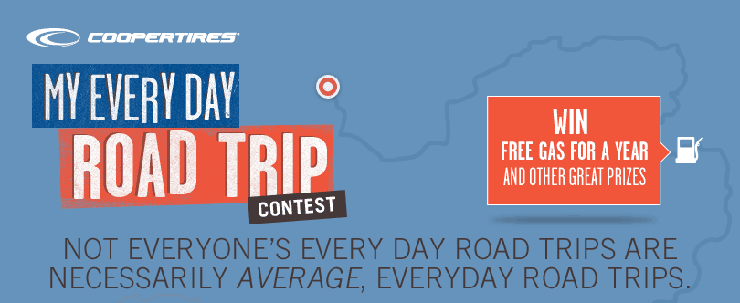 Well, I'd love for someone to give me free gas, but it's probably not likely.  But Cooper Tire, a company that's been around about 100 years, THEY want to give some folks some free gas.
Whether ordinary trips to the grocery store or extraordinary memories, like a newborn's first car ride home, Cooper Tire is commemorating life's every day road trips with an exciting opportunity to earn an entire year of free gas during the "My Every Day Road Trip" contest.
Cooper Tire's My Every Day Road Trip Contest started March first and is accepting entries through March 29th.  There's going to be more than one winner, which always makes me happy. Lots of people can win prizes! All you need to do is "Like" Cooper Tire on Facebook and then submit your no-so-everyday road trip stories through video, photos or written stories.  There are 2 videos available for inspiration, one of which is below.
Winners will be selected based on criteria such as originality, creativity, and their passion for Cooper tires and compelling content.
The top written story will win a $100 gift card to use toward gas for one week while the highest rated photo entry will receive a $500 gift card to use toward gas for one month.
The top five video finalists will each win a new set of four Cooper tires and advance to the final phase of the competition. In the final phase, Cooper Tire Facebook fans will be encouraged to vote for their favorite Every Day Road Trip video, to help determine the final winner. The video with the combined highest score and most votes will be awarded a gift card for $5,000 toward gas for one year to fuel their daily drive.
Cooper Tire is also offering its fans a chance to win a Road Trip Kit just for voting during the My Every Day Road Trip sweepstakes. Fans can vote for their top video to help determine the overall Cooper Tire Facebook video winner starting April 15th. For each vote (one per day), fans will automatically receive an entry to win a Road Trip Kit. The prize pack includes several items to keep them on-the-go, including a $100 Cooper Tire auto service voucher, a $50 gas card, $50 iTunes gift card and Cooper gear.
Visit Cooper Tire's Facebook page for complete contest and sweepstakes rules and submission guidelines.
GOOD LUCK! Let me know if you enter so I can check your entry out!