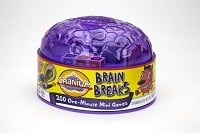 Another great game from the folks at Cranium is here- and you're going to want to grab it fast!!  Full of over 200 different games that are all able to be played in under 1 minute, CRANIUM BRAIN BREAKS offers family friendly fun for all ages, and the small packaging means its totally portable- teachers, doctors, friends, family, just about anyone will love to own this fun game!
I love the classic elements of this game, combined with the fast pace of each individual game- being able to play games in 1 minute can really make for some fun times- and also keep everyone's attention better than perhaps some longer games might, especially for the younger kids. If you are going to have Family Game Night anytime soon, add this to your must- have list!
The classic categories of Creative Cat, Word Worm, Star Performer and Data Head can be found in this compact case of games, ensuring there is something for everyone.

Game Objective: Work together with other players to successfully complete as many activities as possible. See how many game cards can be collected in a row for some added excitement.

Game Play: Players draw a card from the deck and try to successfully complete the activity in the allotted 60 seconds. For example, a Creative Cat card might instruct a player to make a paper airplane and fly it through a ring made out of clay that another player constructs, and all within 60 seconds! Speed is the name of the game!

Game Features:

200 games in one convenient brain-shaped case.

Length of game play is customizable. Each game can be playedin 60 seconds or less so choose the number of games you want

to play and get started!

Classic CRANIUM categories remain:

Creative Cat
Word Worm
Star Performer
Data HeadPlayers: 2 or more

Ages: 8 and up

Approximate Price: $14.99

Availability: Fall 2011 at mass merchandise retailers nationwide
Definitely a GREAT gift idea with the holidays coming up!!  One of my readers will win a copy of Cranium Brain Break!


I received a sample of this product. Opinions are my own.
0