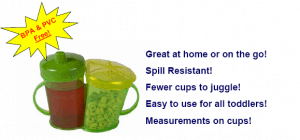 I have a secret to keeping my youngest happy and busy without making a ginormous mess during church.  Its the fabulous Cubbie Cup!  I wasn't sure what I'd think of this, a snack cup and sippy cup in one piece, but having had it a while, I LOVE it.  Yes, we've used it other times but this product has been a lifesaver for me at church.  My church is small and doesn't have enough kids for a nursery program so my youngest sits in the sanctuary with us in the pew.  I do bring toys and things but the Cubbie Cup, I promise you, has been our savior (haha, but I'm serious).  A bit of water and some goldfish crackers, kix, cheerios- she's a happy, happy girl, and her mama is just as happy because with the cool lid, she doesn't get her snacks all over everything. 
This cup also never fails to get comments from the older church members who marvel at the products available to parents these days.  BPA free and made with parents and toddlers in mind, the Cubbie Cup is a great solution for parents of young children.  The sippy doesn't leak and the snack cup doesn't spill.  I love it.  I can't wait until it comes in more colors!  One thing I also noticed is that there are measurement markings on both parts of this so you can keep track of how much liquid intake or snacks are being consumed.  You can find the Cubbie Cup right on their site for purchase, available for $10.99.  Worth every cent to me!
Want to win a Cubbie Cup? One of my readers will win one of these great snack/sippy combo cups!
Mandatory Entry:
Leave a comment with your name. Be sure to use a valid email address in the comment form so I can reach you if you win!
Extra Entries:
Like Cubbie Cup on Facebook
Like Me on Facebook
Share this giveaway on any social networking site :  #win #BPAFree Snack/sippy from @mamatomjr #CubbieCup http://wp.me/p1qA6G-1Vb can be done up to 2x/day at least 1 hour apart
This giveaway will end on June 20 2011 at midnight, EST.  Winner to be chosen randomly. US only. Winner has 48 hours to respond or a new winner will be chosen.
I received a sample of this product to facilitate my review.  Opinions expressed within are my own.
0