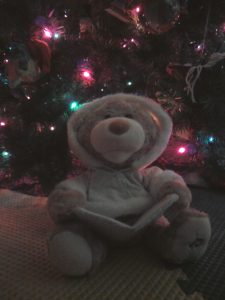 Cuddle Barn's Storytime Teddie is a soft, snuggly stuffed bear who reads the beloved story of The Night Before Christmas with the sweet voice of a child, almost singsong like, with swaying movements to go along with the story.  He holds a "stuffed" copy of the book in his paws.  His mouth moves WITH the words (we've all seen animated toys that do not deliver on this!!) and moves his head up and down while swaying his body. You can put his hood on and off his head (which for some reason, is a big thing with my kids).   This is an adorable plush that I suppose is a toy but was an instant holiday hit in my house, and will be on my mantel for the holiday season for the next I don't know how many years. I love it.
Storytime Teddie is delightful, and has probably shared the old classic tale that my grampa and in turn, my dad, used to read to each of the kids on Christmas Eve just before bed.  I'm all about the holidays and all about the memories, and this little teddy bear stole my heart…and a place on the mantel.(Check out the video of him below- you'll love him too!)
Use code BSM2011 to save 15% off your order at the Cuddle Barn Online Store.  They have many other delightful animated plush figures and these would make wonderful gifts for children or for a family gift.  They have a whole line of hospital gifts, which I found so sweet- what a fun way to brighten a sick child's day, sending them a plush frog who sings and dances to Fever!  While these animated plush friends have enough volume to be heard, they aren't so loud they make me crazy.

One reader will win a Storytime Teddie from Cuddle Barn!


I received this free product as part of a promotional program with Cuddle Barn and MomSelect.  Opinions are my own.
0