Having our new family bike adventures has been such a wonderful experience for us. Even our first trip out, when my tire blew out, my son's pedals stopped working, and we were attacked by mosquitos was a ton of fun.  What was not fun was having to try to squish 3 car seats into the back of our 4Runner because my van was without a trailer hitch.  We knew very quickly that we needed a hitch that was made for a minivan, and fast. Curt Manufacturing has a huge selection of trailer hitches for all kinds of vehicles- a few simple bits of information entered via drop down menus on their site will give you options to choose from specific to your vehicle.

CURT Manufacturing, LLC stands for EXCELLENCE in our products and our people. We are a Manufacturer, Importer, and Distributor of Towing System products, OE Trailer products and Specialty Equipment products that combine competitive price, unsurpassed quality and unparalleled aesthetics. CURT aspires to be the industry leader by recognizing that the customer is King and that our people are our greatest asset.
Curt Manufacturing sent us a trailer  hitch made for our  2004 Toyota Sienna Minivan for review.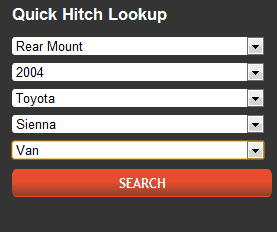 Once you click search, the results page is quick to come up- my results wielded 4 options to choose from.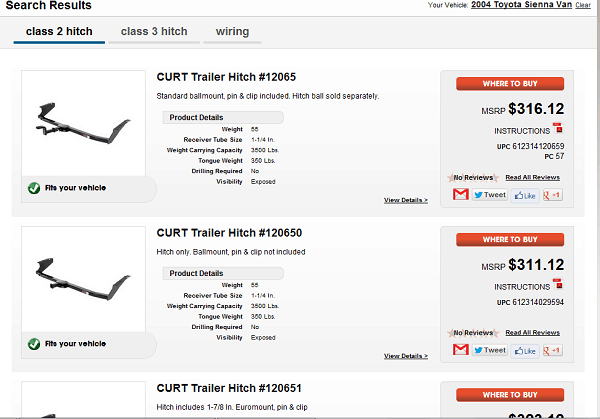 What I like about this is how clear the choices are, and you know that they are specific to YOUR vehicle.  Before venturing to this site, I always just figured a trailer hitch was a trailer hitch and it would just screw onto the bottom of your car.  (Aren't you glad I'm not in the trailer hitch installation business?) I've learned a lot.  Trailer hitches are not that simple and not all the same.
When we started looking for a hitch, my husband emphasized to me he would really prefer to go with one from Curt Manufacturing.  He explained that they've used Curt hitches at his work, and his family has used them, and they simply have a great reputation for quality.
Here's another thing I was clueless about with trailer hitches:  They are big and they are HEAVY.
My husband has done this before, so install took him a little under an hour.  He has helpers on projects like I do so things tend to take a while….especially when your helpers ask eleven million questions.  Install was straightforward, no major issues, and as my husband said, very secure.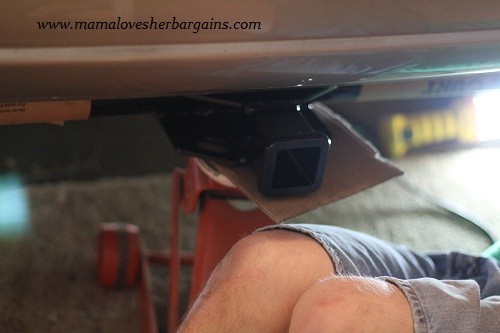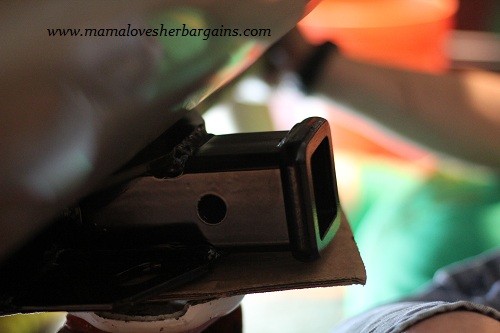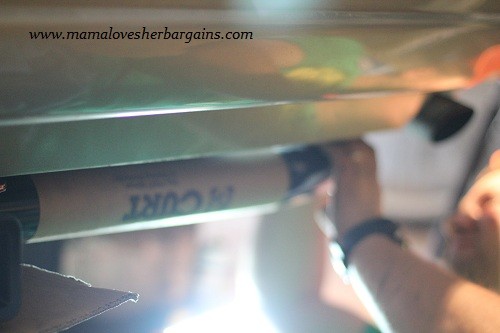 Great quality materials paired with excellent construction make our Curt Manufacturing Trailer Hitch one that we can use and rely upon to function properly for years.
One thing I like?  It doesn't stick way out from behind my van!  That means I'm not banging my shins or ankles when I inevitably forget the hitch is on there (I may or may not be known for doing just that on the hitch ball we have on the 4Runner).
Of course, I'm happy to have the hitch- it means we can travel with our bikes, even on a trip, without being super crowded or cramped.  It also means we can tow our boat with the van, if need be, or even the trailer.  Options are always nice.  If you are looking for a hitch for any of your vehicles, I definitely recommend that you head over to Curt Manufacturing first!
Here's the van, with the hitch being used, and us about to head out on a bike adventure. While I'm gone, don't forget to enter to win a hitch of your own!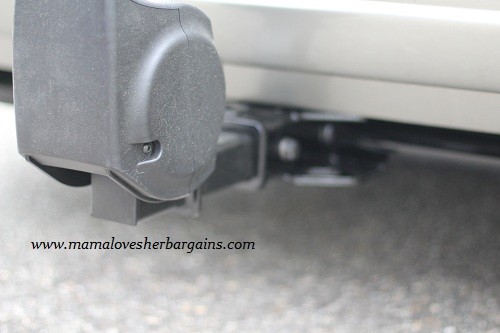 One lucky US reader will win a trailer hitch for their vehicle! 
Loading Entry-Form…
…