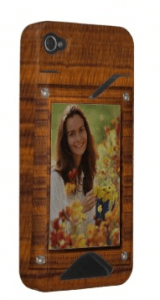 I was so excited when Queen B asked if I wanted to do a guest post and review an item for her blog.  I was even more excited when I learned I would have the opportunity to make a custom case for my Iphone on Zazzle.com.  I'm Ally and I'm one of Queen B's BFF's.
Zazzle.com
is a cool website.  It is your go to site for anything personalized.  Tshirts, cards, mugs, ornaments, you name it.  The homepage of Zazzle is very easy to navigate.  I was able to find the tab for
iPhone cases
under the electronic's category.  Once there, I was amazed at all of the beautiful cases they had to offer.  These aren't your boring plain colored cases that you find at your local electronic stores or big box stores.  There was an amazing assortment of unique patterns and designs.
After looking at several cases, I decided to hit the "create your own case" button and make my own using a photo.  The hardest thing about making this case was deciding on what picture I wanted to use. In the end, a picture of myself with my 2 favorite people, my niece and nephew was the winner!  I was then brought to a screen where you chosse what case you wanted.  I chose the Custom Case Mate-ID case. 
I have never seen a case like this.  It has a slot for an ID or Credit Card.  Perfect for when I am just running out and don't want to lug my whole purse.  I can throw my license or credit card in my phone case (since I NEVER leave home without my phone!) and go!  Perfect!  At this point, I was asked to upload my photo.  Once, I hit "ok" to upload it was there in a few seconds.  I was amazed at how fast it was to get my picture uploaded.  Next, it was time for me to hit the "make it now" button.  Now came the fun part.  I was able to manipulate the picture by making it bigger or smaller and moving it around the phone until I thought it was perfect.  I could have even added text as well, but I didn't.  I loved the way just my picture looked.
At this point Zazzle.com gives you the option to add your case to your cart or options to email, save for later, or start over.  I added mine to my cart.  I then proceeded to checkout and was asked to either create an account or sign-in.  I created an account (since, I now LOVE Zazzle and will be back to make gifts and order again). Once I typed in my shipping and billing information I hit the "place order now" button and off my order went.  I received an email right after confirming my order and a tracking number so I was in the loop as to where my case was and when I would receive it.
I ordered my case on 11/28 and I received it on 12/5.  I could hardly wait to open up my case and put it right on my phone.  I was so happy with the quality.  The pic was crisp and color was amazing. I also get asked on a daily basis about it!  Folks are amazed at how cool it is and it is a one of a kind phone case.
I will most definitley order from Zazzle again.  It was so easy!  Plus, I love to give personalized gifts and Zazzle has an amazing selection of unique items.
One winner will receive a code to create a custom iPhone case from Zazzle.com!
To enter, simply leave a comment telling me which iPhone case you'll choose from Zazzle, and who it will be for.
For an extra entry, subscribe to This Mama Loves Her Bargains in
emails or in an RSS Reader
.  That's it.  Easy, peasy, lemon squeezy.
This is a 24 hour giveaway that will end at midnight, EST on 12/20/11. Winner chosen randomly.
I received a sample of this product to facilitate my review.  Opinions are my own.
.
0