Two of my favorite things in the world are books and Christmas.  Naturally, when we see books relating to Christmas, we grab them.  We have a whole bin just of Christmas and December-ish holiday books that come out every year with the decorations. It's always fun to see old (and new) favorites to read come out and enjoy them together. This year, we've added a new holiday story, one that makes us giggle and also helps to give us a better understanding of other families who don't celebrate Christmas. Dear Santa, Love Rachel Rosenstein, is a new holiday book that just hit stores in October, and was a pretty fast favorite in our house.  I think the true test of a book is often when kids want to share it with others, or talk about a book- and as she read this one for the fifteenth time before school this morning, my 6 year old asked if she could bring this in to share with her first grade class.
DEAR SANTA, LOVE RACHEL ROSENSTEIN
by Amanda Peet and Andrea Troyer; illustrated by Christine Davenier 
In stores now! Release date: Oct 20, 2015
Ages 3-7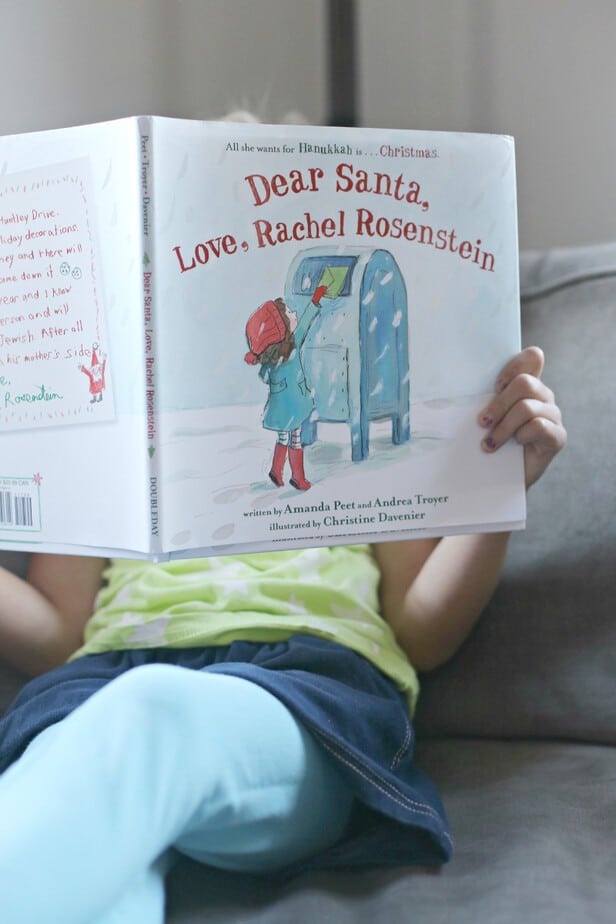 I knew I was going to like this book when I noticed that little Rachel had written a compelling argument to Santa in her letter right on the back cover of the book…when she told the big guy "… besides, Jesus was Jewish, at least on his mother's side." Rachel reminds me of one of my very favorite first graders, Nicole, who's quick wit and intelligence surpass their age but also offer opportunities for them to learn some pretty big stuff. Rachel may be Jewish, but she's sure wishing for Santa to come and visit her house- she goes to great lengths to convince him to come and even sets out latkes for the reindeer and our jolly old Saint Nick… but in the end, she's left with a better understanding of her own family faiths and beliefs…and we readers are left with some giggles and a better understanding of the Jewish faith.
This really is a great book. Lots of humor helps to convey an important message! The illustrations, done in watercolor, perfectly capture the warmth and humor that Amanda Peet and Andrea Troyner weave throughout this children's book.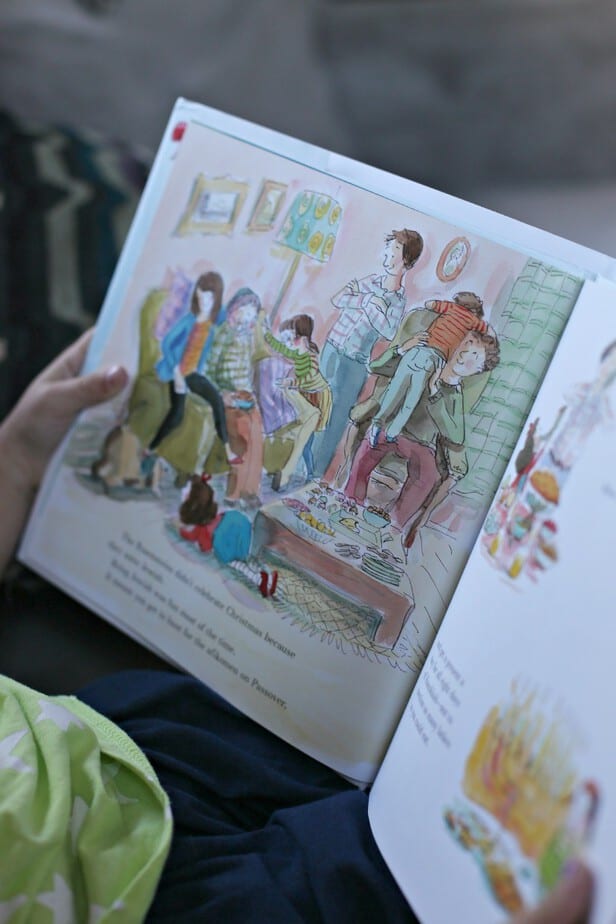 ABOUT THE BOOK
Actress Amanda Peet brings us a hilarious holiday drama in a story that every Jewish family will relate to and appreciate.
Rachel Rosenstein wonders why Santa Claus never visits her house. But this year is going to be different–even though her family is Jewish and doesn't observe Christmas. With hilarious and heartwarming mishaps, Rachel visits Santa at the mall with her special request, writes a letter to Santa explaining her cause, and clandestinely decorates the house on Christmas Eve (right down to latkes for the reindeer). And while Rachel may wrestle with her culture, customs, and love of sparkly Christmas ornaments, she also comes away with a brighter understanding of her own identity and of the gift of friends and family.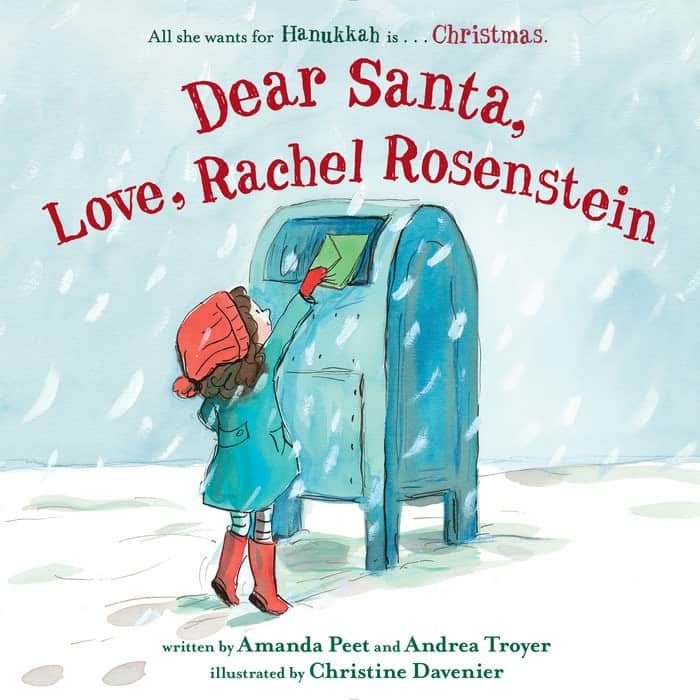 ABOUT THE CREATIVE TEAM
Amanda Peet is an actress and playwright. Her first play, "The Commons of Pensacola," starring Blythe Danner and Sarah Jessica Parker, opened to critical acclaim in 2014 at Manhattan Theater Club. A native of New York, Peet graduated from Columbia University with a degree in American History. She has appeared in numerous films, including "Please Give," "Syriana," "Something's Gotta Give," and "The Whole Nine Yards." She also starred in the TV series "Studio 60 on the Sunset Strip," and the Broadway revival of Neil Simon's "Barefoot in the Park." Peet stars in a new comedy series, "Togetherness" for HBO, debuting in fall 2014.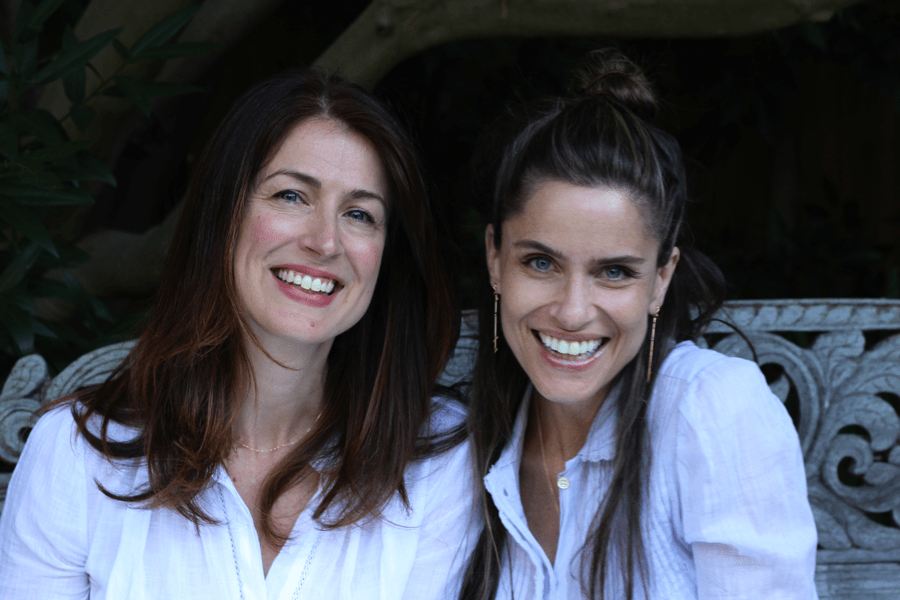 Andrea Troyer grew up in Minnesota and received an MFA from the University of California, Irvine. She lives in Los Angeles with her husband and two young boys.
Christine Davenier is the illustrator of many children's books, including Julie Andrews's "The Very Fairy Princess" series. She lives in Paris, France.
Learn more at PenguinRandomHouse.com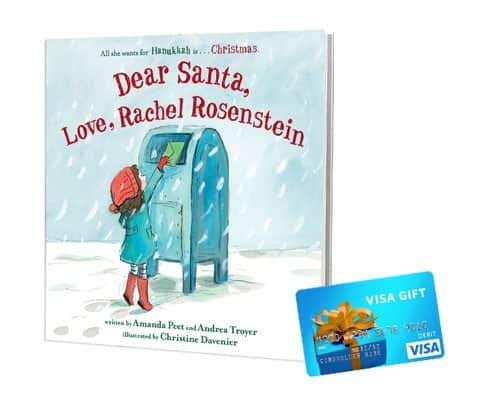 Celebrate the season of giving! One winner will receive a copy of Dear Santa, Love, Rachel Rosenstein and a $100 Visa gift card for your holiday purchases.
Giveaway open to US addresses only.
Prizing and samples provided by Penguin Random House.