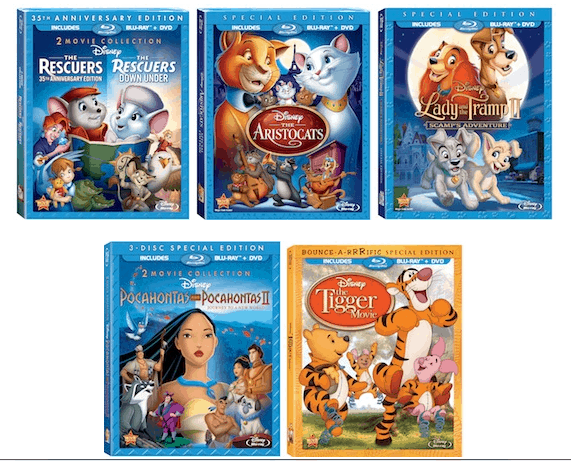 Disney's released some classics to Blu-Ray and DVD and I couldn't be happier.  Many of these films I've seen and loved for years- some I've not seen at all.  But happily, they are all available for purchase on Blu-Ray and DVD now so we can enjoy these family favorites for years to come.
THE RESCUERS: 35th Anniversary Ed & THE RESCUERS DOWN UNDER – 2 Movie Collection
To commemorate the 35th anniversary of an original classic, Disney proudly presents a special 2-movie collection featuring all-time family favorites, "The Rescuers" and "The Rescuers Down Under," for the first time ever on Blu-ray! Join two of the world's bravest mice – Bernard and Bianca – as they set out on two thrilling rescue missions full of comic adventure while soaring through the Devil's Bayou and flying sky high in the Australian outback. Buckle up for the ride of your life as these tiny heroes with great big hearts outrun and outwit their rivals to save the day. Brimming with lovable characters and unforgettable music, the 2-movie collection is high-flying fun for the entire family! Share the laughs and excitement for the first time on Disney Blu-ray.
THE ARISTOCATS: Special Edition
Disney's spectacular 20th full-length animated feature "The Aristocats" arrives for the first time ever in stunning Blu-ray high definition as a Special Edition 2-Disc Blu-ray Combo Pack (Blu-ray + DVD) and Digital, on August 21, 2012.  Featuring a beautiful new digital restoration and great new bonus features, "TheAristocats" invites audiences to relive all the tune-filled feline fun, comedy and adventure of this Disney classic.
The exciting tale takes place in the heart of Paris where a kind and eccentric millionairess, wills her entire estate to 'Duchess,' a high society cat, and her three kittens.  When the bumbling butler Edgar tries to pull off the ultimate catnap caper in order to secure the fortune for himself, it's up to alley cat Thomas O'Malley and his band of swingin' jazz cats to save the day.  "The Aristocats" features the voice talents of Eva Gabor, Phil Harris, Sterling Halloway and legendary French singer Maurice Chevalier, who performs the film's titular opening song.  The legendary Disney songwriting team of brothers, Richard and Robert Sherman, get the joint jumping with the jazz-inspired musical numbers "Ev'rybody Wants To Be A Cat," "Scales and Arpeggios," and "Thomas O'Malley Cat."
 "The Aristocats" Special Edition is a purr-fect treat for the whole family.  It includes a brand new bonus featurette "The Lost Open" with Richard Sherman taking viewers through the storyboards of a never-before-seen alternate beginning which introduces a deleted character and a deleted song "How Much You Mean To Me" and "Court Me Slowly" written and performed by the Sherman brothers. This song demo was one of the few times Richard and Robert ever sang together.
LADY AND THE TRAMP II: Scamp's Adventure – Special Edition
Disney's beloved classic continues in Lady and the Tramp II: Scamp's Adventure – for the first time ever on Disney Blu-ray. Lady and Tramp's mischievous pup Scamp is always in the doghouse. Now, an itch for a collar-free life and freedom is sending him on the ultimate adventure! With nonstop laughs, paw-tapping songs and exciting bonus features, Lady and the Tramp II: Scamp's Adventure is a new breed of Disney fun that the whole family will love!
POCAHONTAS & POCAHONTAS II: Journey to a New World – 2 Movie Collection
Walt Disney Pictures' action-packed animated musical adventures "Pocahontas" and "Pocahontas II: Journey To A New World" debut for the first time ever in vivid High Definition — on August 21, 2012.   Combined also for the first time in a Two-Movie Collection, the exciting release allows families and fans of all ages to own these timeless stories of hope, courage and friendship together in an exciting Disney 'Combo Pack' Including Blu-ray and DVD, and also available on HD digital download.
The Two-MovieCollection, Blu-ray debut features exciting all-new bonus material including "Drawing Inspiration: The Lost Story of Hiawatha," a fascinating behind-the-scenes featurette showcasing how Walt Disney and his team were once developing a full-length animated feature called "Hiawatha," that ultimately directly influenced the development of "Pocahontas."
Bursting with all the "Colors of the Wind" and filled with spirited adventure, romance, and the show-stopping songs of Alan Menken and Stephen Schwartz, the "Pocahontas Two-Movie Collection" features an award-winning cast that includes Mel Gibson ("The Passion of the Christ;" Academy Award® winner, Best Director "Braveheart," 1995), Irene Bedard, Christian Bale ("Reign of Fire;" Academy Award® winner, Best Performance by an Actor in a SupportingRole "The Fighter," 2011) and David Ogden Stiers ("Lilo and Stitch," "Pooh's Heffalump Movie").
THE TIGGER MOVIE: Bounce-a-RRRific Special Edition
Walt Disney Studios brings the magic of the Hundred Acre Wood to life with "The Tigger Movie," bouncing onto Blu-ray high definition and HD Digital for the first time on August 21, 2012. Featuring new digitally enhanced picture and sound and exclusive bonus features, "The Tigger Movie" Bounce-A-Riffic Special Edition Blu-ray Combo Pack invites families to relive the childhood fun of the one and only Tigger.
The exciting new Blu-ray Combo Pack provides hours of viewing fun with bonus materials including two all-new features: Disney Intermission—when the film is paused, young fans can participate in a variety of Hundred Acre Wood themed games including guess the character, spot the differences and counting; and "A Tigger Tale" a featurette where the filmmakers discuss how Tigger's literary and film history influenced "The Tigger Movie."
 "The Tigger Movie" Bounce-A-Riffic Special Edition Blu-ray is a tiggerific treat for the whole family and for added fun, comes packaged with a family tree activity poster and stickers.
In this charming musical tale of friendship and adventure, "The Tigger Movie" Bounce-A-Riffic Special Edition follows Tigger as he sets off on an epic journey to find other Tiggers in his family tree. Through a series of exciting adventures he discovers that families come in all shapes and sizes. This fun and playful animated tale delights a whole new generation of fans with its timeless characters and storytelling, rich animation and delightful songs by legendary Disney songwriting team of brothers, Richard and Robert Sherman. The film features the Hundred Acre Wood's most lovable characters, Pooh, Eeyore, Tigger, Piglet and the rest of the gang.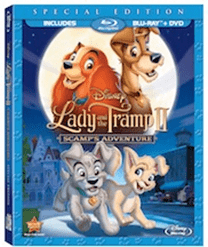 Two readers will each win a Blu-Ray DVD copy of Lady and the Tramp II! 
Loading Entry-Form…
…
 I received samples of these films in exchange for posting.  Opinions are my own.
0