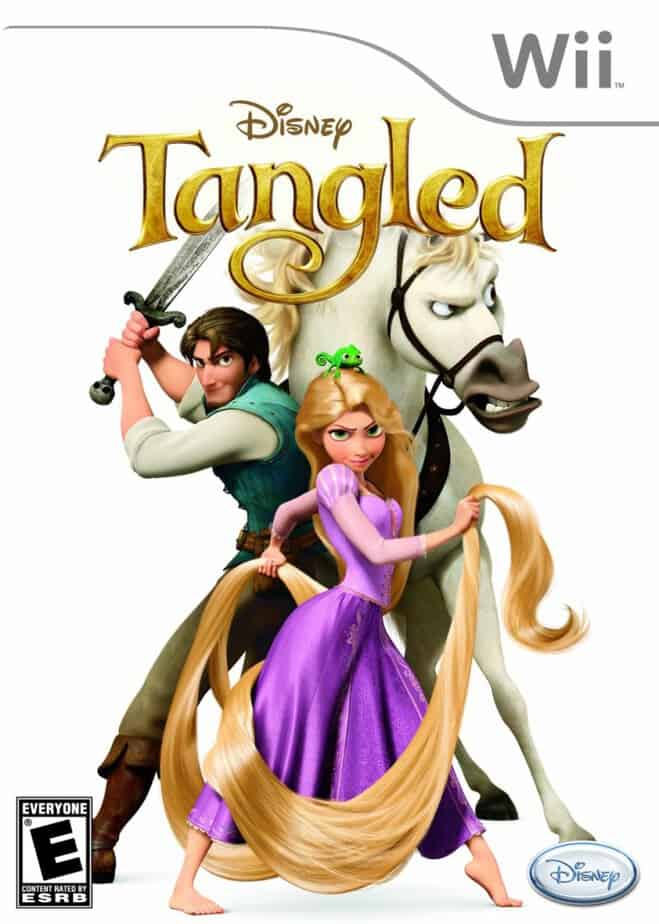 Disney Tangled: The Video Game takes players on a film-inspired , hair-raising adventure designed for the Wii™ gaming system. In this story-based journey fans will venture into a kingdom filled with colorful 3D environments , creative play, fun quests and competitive challenges. Players will discover multiple activities, meet interesting characters, befriend animals and work as a team to help the unlikely duo of adventurous Rapunzel and swashbuckling Flynn with their comical antics. Mastering unique abilities, players can swing into action as Rapunzel using her golden tresses, pull objects and climb, grow flowers in "charm mode" and collect a variety of colors to draw and paint the Tower wall or collect sun drops to earn points. As Flynn, players can climb walls, clear obstacles, engage in sword play , and discover hidden treasures using his "Flynntuition". In order to win challenges faster, players will need to work as a team, helping each other along the journey and collecting as many items as possible




Nintendo Wii™ Key Features


Become immersed in the film-inspired, action-packed world with in-game VO from movie talent, Mandy Moore and Zachary Levi


Play as Rapunzel and Flynn using their unique abilities, such as hair-swinging and Flynntuition


Solve mysteries and challenges to maneuver through a mission-based, storybook kingdom


Explore 3D environments with 2 players simultaneously via split screen


Play fun activities and multiple mini games – solve puzzles, paint, race, engage in swordplay, clear obstacles, rejuvenate objects, keep a journal


Engage in coop with 2-4 players as well as activate the "Hold My Hand" feature for younger gamers needing more guidance
GAME PUBLISHER: Disney Interactive Studios


DEVELOPER: Planet Moon


GENRE: Adventure


ESRB RATING: Everyone with Cartoon Violence


GAME PLATFORMS: Wii™ and DS™


MSRP: $39.99 (Wii); $29.99 (DS)


SHIP DATE: November 23, 2010


TARGET AUDIENCE: Kids 6-11


PLAYERS: Co-op with 2-4 players and Single player




Our thoughts:
Such a cute game.  Definitely not "just" for girls.  We have all enjoyed this- my 3 year old son, 5.5 year old daughter, 35 year old husband and me!  The characters look very much like the movie and have the same mannerisms and actions.  There aren't any scary parts, although there are some "darker" scenes underground, and some spiders to contend with (or rather, for Flynn to contend with- I couldn't get Rapunzel's frying pan to do a darn thing to those pesky spiders!!).  The game is geared for 6-11 year olds and I'd guess that's about spot on.  My hubby and I actually played through to the end of the game and I'm glad we did because now we can help the kids explore and find "new" things to do in each area.  I like how there are challenges to the game that all fit into the movie.  The kids love the characters and all of the fun ways to get around and actions to do- Rapunzel swinging by her hair, helping Flynn climb onto higher things, skipping while moving from place to place, smashing with a sword…this is definitely a fun family game to add to your collection if you are Disney fans!!




     [youtube http://www.youtube.com/watch?v=YkHmHzanPiU]


Now, you all know I love a bargain- and even with video games there are bargains to be found.  The Tangled games come with a voucher inside to see Tangled in theaters- up to $7.50 value – but hurry, the offer expires 1/31/2011.
Want to win a copy of Tangled: The Video Game on either Wii or DS (your choice of platform)?  Three of my readers will be receiving a copy!
Mandatory Entry: Visit Disney Interactive and comment here to tell me a feature you think you'll like about the game!! Be sure to leave your email address in your comment if not visible in your profile so I can contact you if you win.  (If you don't do this entry, the rest do NOT count).


Extra Entries
Follow me publicly via GFC
Follow me on Facebook
Follow me via email subscription, or Twitter  (1 entry each)


Share this giveaway on any Social Networking site (leave URL of your post/comment/status)
"Enter to #win #DisneyInteractive Tangled: The Video Game (3 winners) from @mamatomjr http://bit.ly/fSuxhm "- 2x/day
Enter any of my other giveaways- 1 entry/giveaway (up to 5 extra entries allowed!)


Leave a relevant comment on any non-giveaway post (+1 entry/post)


This giveaway will end on January 20, 2010 at midnight, EST. One entry per household. Winners to be chosen using random.org. US only. Winner has 48 hours from my initial contact to respond or a new winner will be chosen. Good luck!!


I received a sample of this product to facilitate my review. Opinions expressed within are my own.