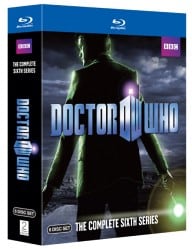 On November 22nd, Whovians can join The Eleventh Doctor (Matt Smith) and Amy Pond (Karen Gillan) as they make their triumphant return in a season filled with fresh thrills, new monsters and pulse-pounding adventures on BBC's Doctor Who: The Complete Sixth Series. Plentiful extras include a 60-minute Christmas Special; Doctor Who Confidential, an inside look at each episode; audio commentary; trailers and more.
I can remember watching Doctor Who on Sunday nights growing up with my brother, B, after returning home from "the lake" while my parents unpacked the car and tried to regain their sanity. While it wasn'y something I wanted to watch (it competed with Punky Brewster), I did enjoy watching it and liked the story lines. It's kind of cool to see how it has evolved through the years, and having the series to own means you can view at any time. Plus, the extras always make things more interesting! I find the idea of Dr Who far more appealing as an adult than I did when I was 9 years old, for sure, and of course understand so much more!!

One of my readers will win Doctor Who: The Complete Sixth Series on Blu-Ray/DVD!



I received a sample of this product in exchange for my post. Opinions are my own.
0