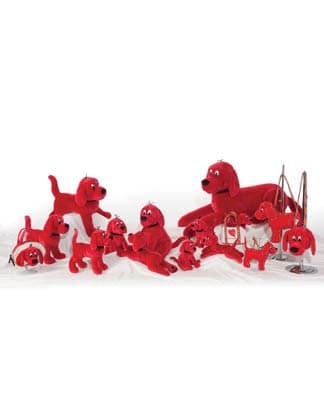 There are some books that you read over and over and over to your children, your classroom, the kids you babysit- and many of those books, at least in my life, have been Clifford the Big Red Dog books by Norman Bridwell.  Recently, Douglas Cuddle Toys, a brand known for their wonderfully soft and snuggly plush toys, acquired the license for Clifford the Big Red Dog® and have come out with line of Clifford friends sure to delight any little fan of the series- the books or the tv show!
Douglas Cuddle Toys sent us their Giant Clifford plush dog toy.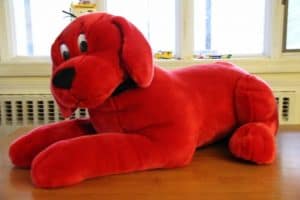 Handsome, isn't he?  He's so fun and snuggly, and soft, too.  The kids loved him from the moment he arrived (although my 6 year old is really wanting an enormous Emily Elizabeth to keep him company!!)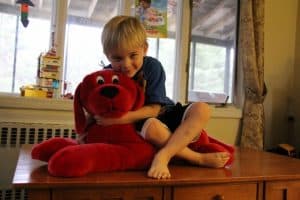 The kids have been piling on Clifford to play Legos, read (Clifford, of course) books, watch tv, play dominoes and just hang out.  He's fun, he's a conversation starter, and he's just a love.
There are Cuddle Pals and Fun Fashion toys in the Clifford Line.  I think the little Clifford purses are beyond adorable, and would be carrying one today if I thought I could get away with it.  Sadly, at almost 38, I think that's best left to the kiddos…I love that Douglas did such a big variety of the Clifford line- different sizes, different poses and a plush for every budget!
Douglas is seeing red with all the Clifford plush dogs it has to offer. They come in all shapes and sizes. Some are sitting, some are lying down, while others stand and one 30" style is simply huge! Clifford the Big Red Dog® plush products are charmingly sweet, ultra soft and snuggly. The plush pets range in size from 7" to 30" and have a suggested retail price range of $10 to $160 each.

Plush dogs are not the only thing in Clifford's portfolio at Douglas. Clifford has a complete fashion line as well. The line includes a Clifford Sassy Tote, a Clifford Sassy Pet Sak Sillo™, a Clifford Sillo-ette™, and a Clifford shoulder bag and hand bag, which both feature Clifford's plush head.
One lucky reader will win the Large Clifford Cuddle Pal- ARV $49.99!!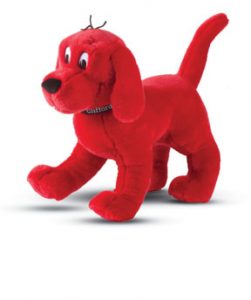 a Rafflecopter giveaway

I received a sample of this product to facilitate my review.  Opinions are my own.
0