I am a huge fan of Dove products. I was happy to learn I was invited to be an ambassador for the new Dove Body Wash with Nutrium Moisture- having  natural ingredients in my body products always makes me happy. We've used Dove products for years in my family, although I'd not used much of the body washes until now.  Since starting to use the Body Wash regularly, I've noticed my skin feels less dry and looks smoother. I'm really happy with the results. I've also started using the body wash as a bubble bath when I soak in the tub.  It's delightful- enough bubbles to feel like I'm in a bubble bath and enough moisture to feel like I'm being pampered.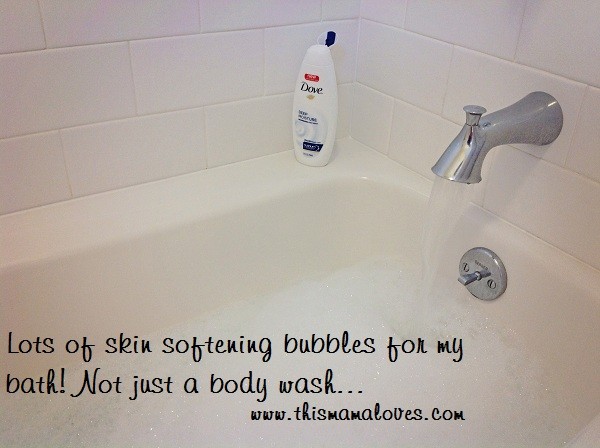 Bath time is MY time. Until we redid our bath last year, I'd no idea what I'd been missing.  I adore my tub time, and I take one almost nightly.  It's my time to refresh and recharge.  It calms me, let's me chill, gives me a moment to just be still and be in the moment.  I love having products that pamper my skin AND rinse off easily- I hate feeling like I'm covered in product residue. I'm loving the Dove Body Wash as my bubble bath! I'm clean, I'm refreshed, and feeling like I've got more to offer others when I have a few minutes of "
Why does this product make my skin feel so fabulous? I'm convinced it's the Nutrium Moisture with 100% natural moisturizers that skin can absorb that replenishes lipids lost during cleansing to keep skin smooth and nourished.  I am loving how my skin feels softer and especially my 'trouble spots" like my elbows and ankles are not so rough and scratchy.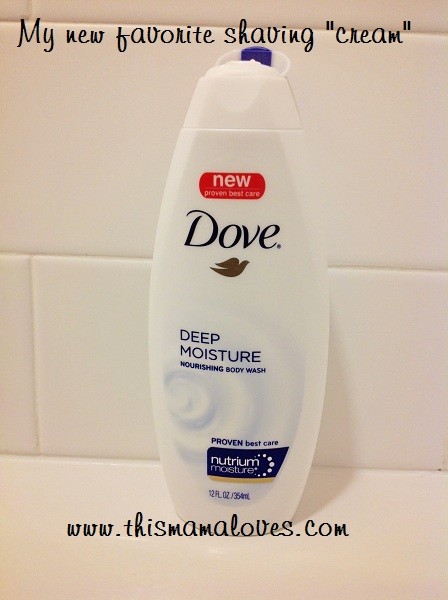 Though the new Dove Body Washes are mild, they still provide an enjoyable shower experience with rich lather that you don't typically see in mild body washes. I've been using the wash in place of my shaving cream too- it's giving me great results, it's less containers in the bathroom, and I'm happy with the results. I trust the Dove brand already so why not just use it? Saves me money and frees up some much- needed space. The Glycinate ingredient, typically found in high-end body washes, not only reduces damage to proteins during cleansing, but also creates a soap-comparable lather that rinses cleanly.
Visit the Dove Facebook Page to stay up to date on all things Dove- and who knows, you may find a coupon or hot deal on there no one else knows about!

I am so happy we got to try the new Dove body washes. I have already purchased more and will be needing more sooner than later!  Great product, great quality, great price.  Definitely worth a try. Check out my Dove Pinterest Board!
What are your favorite ways to relax and pamper? Do you use a body wash in the tub or shower?
"I wrote this review while participating in a Brand Ambassador Campaign by Mom Central Consulting on behalf of Dove and received products to facilitate my post and a promotional item to thank me for taking the time to participate."