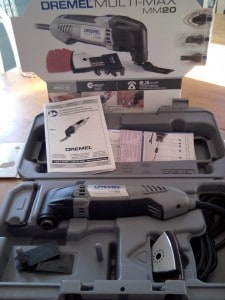 I would be remiss if I had a gift guide and didn't include something for the handy folks in our lives. I'd say the "guys" but that might not be the case everywhere. Dremel has a few new tools out and I have to tell you that the new Dremel Multi-Max MM20 is something that most homeowners find will come in very handy- maybe not now, but down the road for sure!  This would make a really nice gift for under the tree next month!!
This is an oscillating tool, which comes in a handy (and protective) storage case, along with 8 accessories. It's a lot of bang for your buck. It's also a lot of functions for your buck.
The Dremel Multi-Max MM20's 2.3 amp motor is more powerful than the Dremel brand's current oscillating tool, enhancing tool performance and allowing for faster, more precise cuts in a wide variety of materials. With a variable speed range of 10,000 – 21,000 oscillations per minute, the MM20 allows DIYers to power through their to-do lists with detail, precision and optimal performance.

The tool also features strategic vent locations and an improved fan design, enabling the MM20 to run cooler and more smoothly than other oscillating tools for increased comfort when handling over an extended period of time. An extended length 7-foot rubber cord allow users to handle the tool with ease while cutting, sanding, scraping, grinding and removing grout in their homes or workspaces. The MM20 also boasts a new line of cutting accessories with expanded cutting width and depth that enables users to cut through more material in a shorter amount of time. These enhanced blades make precise cuts through tough materials such as hard woods, framing lumber and 2x4s, and continue to utilize the brand's Quick Fit™ accessory interface, making accessory changes twice as fast as similar oscillating tool systems.
My husband is very handy.  Like there's not much he can't fix, and if he can't fix it, he can figure out how to very quickyl.  This is great for us since we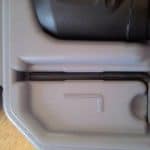 have owned 2 homes together, both being fixer-uppers.  We actually have to redo our (only) full bath upstairs as our next big project and I KNOW that this is going to make the floor and wall tile removal a far simpler and easier task with the Multi-Max.  The compact size means I can handle it, but also that we can get it into smaller spaces than we could with other tools.  The storage case that this comes in has clearly identifiable spots for each accessory, including a spot to store the allan wrench…so no losing it.  I don't know about you but I hate looking for the right size of those- and I always need to look they aren't ever where  I need them to be!!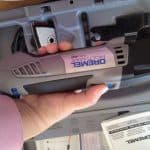 We found this tool not only easy to use, in terms of changing the accessories in and out, but also in terms of how it works.  The motor runs smoothly and it's easy even for my smaller hands to keep the tool on the "path" you want it to be.  I think it's a great tool and now I'm readier than ever to go demolish the upstairs bathroom…hmm…hubby's gone all day, and we're home.  Maybe I should just head upstairs with the MultiMax?  Lucky for him we don't have the grout removal accessory (yet)!!
One of my readers will win the Dremel Multi-Max MM20!
I received a sample of this product to facilitate my review.  Opinions are my own.