This post about how to earn cash back online is brought to you by TopCashback.com.  Opinions are my own. Most of us shop online these days.  It's convenient, we can find the best pricing without having to go store to store, and quite simply, it's convenient.  A popular trend that I adore is earning cash back online when shopping.  If you are going to spend your money, why not spend smart and maximize your hard earned money?

TopCashback.com has been around the UK for years and decided to head over here to the USA in fall of 2011.  They give ALL the commission rate stores pay them back to members as a cashback rebate. TopCashback.com is  free to join and use, with no minimum cash withdrawal level. You can cash out one cent if you really want to. Even if you just use your tell-a-friend link you can cash out immediately, as many times a day/week/month/year as you want, via PayPal or direct deposit. The TopCashback.com  tell-a-friend bonus is currently $10 and uncapped; recommend 1,000 people to them who each go on to earn $10 worth of cashback and they'll pay you $10,000.  (Who doesn't want $10000? I sure do!)
How does TopCashback stay afloat if they are giving all of the commission to users in rebate form?  They use Google Ads-on their pages clearly marked as ads and noted that they aren't cash back offers so as not to confuse consumers.
Some examples of ways you can earn cash back online as a TopCashback member: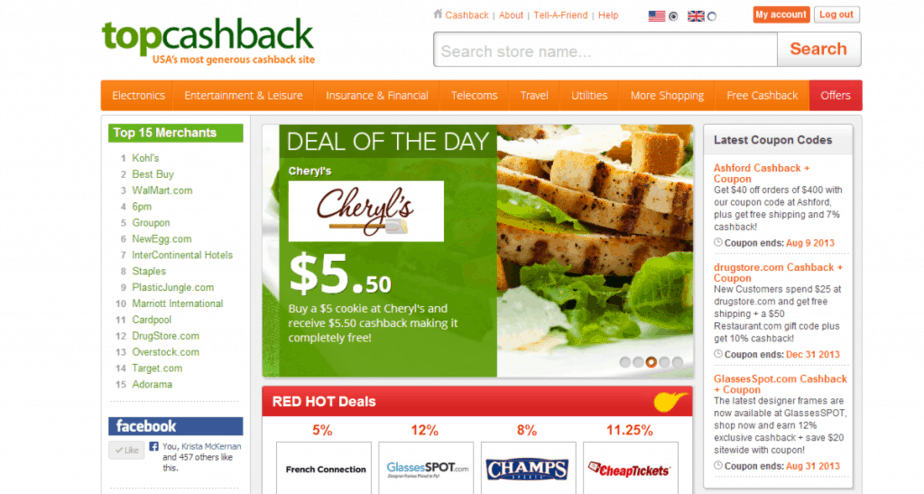 Snag a free cookie (priced at $5) plus a free $5 gift card, delivered, after cashback.

Visit Cheryl's through TopCashback, pick and purchase one of its $5 cookies and within seven days $5.50 cashback will have posted in your TopCashback account. The $5.50 covers the cost of the cookie and any sales tax you may possibly be charged, effectively making the cookie a delicious freebie.

Shipping is free plus you can add a complimentary gift message if you're sending it to someone else (or you can simply send it to yourself).

Within 60-90 days the $5.50 should turn payable and can be credited straight to your checking or PayPal account.

The cookie will arrive in a gift box within a few days of your order and there will also be a $5 gift card for use on future Cheryl's purchases; so you effectively get a free cookie and $5 to spend on another!

Terms and conditions:

The free cookie offer is available until 23:59 PDT on Friday, August 16, 2013, though is subject to availability and may close early.
The free cookie offer is available to new, current or past Cheryl's customers.
Only one free cookie is allowed per TopCashback account.
Only one TopCashback account is permitted per person.
The free cookie offer is available for online sales only, for purchases made at Cheryl's directly after clicking through TopCashback.com.
Transactions should only contain one item to ensure $5.50 cashback is credited to TopCashback accounts: a $5 cookie. If additional items are purchased at the same time, the cashback amount awarded will be 13% of the goods' cost instead of $5.50.
Visit Target thru TopCashback and you can actually get a free- with a little bit of cash back- Maybelline Great Lash Mascara!  The mascara is $4.44 and with the $5.50 cash back, you actually end up with $1.06 extra.
Ready to shop? One This Mama Loves reader who is ALSO a TopCashback.com registered member will win $150 Cash!  This is open to both US and Canadian residents although the prizing will be only in USD.
0