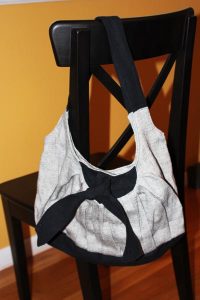 I have been looking at the extensive line of Earth Divas Handbags that are sold at Whole Foods Markets for quite a while.  So, when I was asked to review one of their bags I got really excited.  Earth Divas was wonderful and let me choose from any of the bags listed on their site.  I chose the Cotton Modern Eco bag in grey and black.  They are also going to do the same for one lucky reader.
All of Earth Divas bags are fair trade made.  What does that mean?  I asked Earth Divas, what do you want the readers to know about your company and this was the response.
"What's most important is that we return 100% of company profits back to our artisans at the end of the year, in the form of a bonus  check. We also work with many women's groups in Nepal and India to train women how to use sewing machines; women who do "hand stitching" (which we so prize here in the States!) are actually paid far less than "tailors", mainly men, who sew on machines. We train these women to use sewing machines so not only can they sew for us, but they can earn more for the rest of their life. Of course, we also have a ton of bags that are hand stitched, and we pay everyone a fair trade rate."
So, when you get a bag from Earth Divas you are getting a high quality product and you can be assured that the makers are being fairly paid. The owner of Earth Divas, Ed, travels to Nepal and works directly with the workers to come up with new designs. You can look at hundreds of their fun designs on their website, Earth Divas.  There you can also check out their blog posts to see what is going on.
I had so much fun looking at all the handbags and I finally choose the one pictured in this post.  I have used it everyday since it arrived.  It is roomy and has a great zippered interior pocket and closes with a magnetic clasp.  The bag is soft but very durable and sits comfortably on my shoulder.
Now comes the fun part.  Enter below to win your own Earth Divas handbag.
A handbag was provided to facilitate my review. All opinions are my own.
0