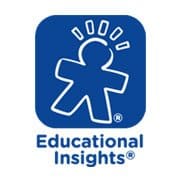 Educational Insights is our favorite store for educational games and learning tools. Their products make learning so much fun for our little ones!!
They offer everything from early skill development and imaginative play to flip charts for grade school children. Not only does Educational Insights offer fabulous toys and games for kids, but they offer resources for parents and teachers too. Check our current giveaway for their board game: "The 7 Habits of Happy Kids". This is such a cute and imaginative game that helps teach your children great habits in a fun way!

Want to experience Educational Insights for yourself? They are offering one of our readers a $50 gift card!