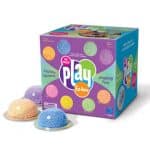 My 4 year old attends a Peer Model Preschool Program at our local elementary school.  One of the things I love the most about this program is that all of the children are treated equally, and the special needs of the children are incorporated into the entire classroom.  Some of the children have sensory issues, some are working on fine motor skills, and the sensory table is a key component of the classroom.  I asked Educational Insights if we could try out their Playfoam® Combo 20-Pack to send in  for the children to enjoy because I knew that this product would be wonderful for the children in the classroom- color recognition, fine motor skills, and sensory exploration.
  Preschoolers are free to express their creativity — with no mess to clean up afterward! Just squish up the Playfoam®, shape it however you like, squash it back down, and start all over again. Playfoam® never dries out so the creativity never ends — and the secret no-stick formula means you can take it anywhere for creative fun on the go!
From Mrs. O, Special Education Teacher:

I love the play foam. I put it in the sensory table for students to explore and play with.

The texture is so different – it is sticky without being sticky.

The colors are great – they are fun by themselves or mixed all together.

Students love to mold, squish and form it.

Another great feature is that is doesn't stick to carpet or clothing – no mess to clean up!
They also sent the Alpha Catch™, which is a fun phonics game that also involves tossing and catching, a fun way to reinforce letters and sounds!  Games include:
Letter Line Up – "What letter is that?"
Ace the Sound – "What sound does that letter make?"
Beginning Sounds Catch – "Say a word that begins with that sound!"
Ending Sounds Catch – "Say a word that ends with that sound!"
Middle Sounds Catch – "Say a word that has that sound in the middle!"
Word Catch – "Can you make a word with the letters you caught?"
Round Robin Play – "All questions above are asked as a group of kids tosses and catches the balls


One reader will win the Playfoam Combo Pack and Alpha Catch Game!
 



Samples of this product were received to facilitate reviews.  Opinions are our own.
0