Now that summer is fast approaching and I have a little one who will be entering the school system next fall, I have been really interested in learning more about activities to prepare him for school.  I don't want all that hard work from preschool to be lost during those long summer months!  Through my research I ran across Educational Insights.  This site is a great resource for teachers and parents alike.  I found that they offer quite an array of education toys and supplies.  The website is set up nicely with a tab at the top for parents and one for teachers.  You can easily shop for products by category, subject, theme or brand.  Their products cover everything from creative play to science and strategy.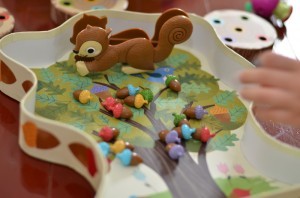 I didn't want my summer homeschooling projects to seem too "schooly" and was pleasantly surprised at the selection on this site.  Educational Insights had so many fun games and acitivities that it was hard to make a choice!  In the end I decided on the Sneaky Snacky Squirrel Game, which I had seen in a magazine and just LOVED the look of.  Just read this cute description:
"Your forest friends are hungry and they need your help! Spin the spinner, squeeze the matching colored acorn with your Squirrel Squeezers, and place it into your log. Be the first to your log with delicious acorns and you win! You could also spin "pick an acorn," "steal an acorn," or "lose an acorn," so be strategic, little squirrel!"
Develops matching, sorting, strategic thinking, hand eye coordination, fine motor skills, and pre-handwriting skills
Here are my impressions:
1.  I LOVED working with this company.  They have a great selection of products and were so easy and friendly to work with.
2.  My package arrived quickly.
3.  The Sneaky Snacky Squirrel Game was adorable.  The first thing you will notice is the fabulous box that it comes in.  It is designed like a tree and has a totally retro feel about it.  I have this thing about retro board games.  For some reason I just think they are the best.  They make me think of my childhood and innocence.  There is just nothing better than sitting around with the family playing a game.  Anyway, this game is for ages 3-5.  I have a 2 year old and a 5 year that absolutely LOVED playing this game.  The concept is simple.  Place the colored, rubber acorns in the tree game box and hand out the log playing pieces. Spin the dial, which tells you what color acorn to pick up, skip a turn, etc….  Use the adorable squirrel squeezer device to pick up the acorns and place them in your log.  The first person to fill their log with acorns wins.  It was just complicated enough to keep my preschoolers attention, and the cute acorns and squirrel squeezer fascinated my 2 year old.  We have played this game several times and everyone in the family enjoys it.  I have to admit that the physical therapist in me loves the fine motor control that is involved in using the squirrel sqeezing device and placing the acorn in the log.  Not only is it good for building up intrinsic muscle strength in the fingers and hand, but it is great for prehandwriting activities.  Enough of the technical mumbo jumbo.  This game is fun, educational, kids love it and it's good for them.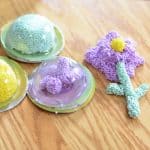 4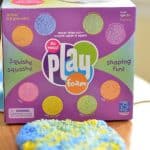 .  Educational Insights even sent me a bonus item, an entire box of play foam, that my kids enjoyed for hours on a rainy day.  So nice!  I have never owned play foam before, but I thought it was great.  There was a nice selection of colors in the box, the foam is easy to manipulate, easy to clean up and doesn't dry out.   How can you lose.  I have to admit that I even had fun playing with it.
As if I haven't had enough fun with these products, Educational Insights is offering a contest on their facebook page.  Just like their page and you can enter for the following prize:
Enter for a chance to win a 3-day, 2-night trip for 2 to California and tickets to a live taping of Jeopardy!® on the Sony® Pictures lot in Los Angeles!   This contest runs until the end of August.
 
AND THERE'S MORE!
One very lucky reader will win their very own Sneaky Snacky Squirrel Game.
Mandatory Entry: Visit Educational Insights and tell me what your favorite product is.
Extra Entries:
1. Follow Educational Insights on Facebook
2. Follow me on GFC, Facebook, Twitter or RSS/Email Subscription (+1 each)
3. Share this giveaway on any social networking site (leave URL of your post please!! hint: right click the time stamp!!) 2x/day at least 1 hour apart
4. Leave a comment on any non giveaway post +1/post up to 5 comments
5. Tweet this giveaway: #win a sneaky squirell @EI from @mamatomjr @jendpt http://wp.me/p1qA6G-1zx (can be done 2x day at least 1hour apart)
This giveaway will end on May 27, 2011 at midnight, EST. US only. Winner to be chosen randomly. Winner has 48 hours to respond to my email or a new winner will be chosen.
I received a sample of this product to facilitate my review. All opinions expressed are my own.[ad#glam between posts]
0