A few weeks ago, while camping and having my first cup of coffee, I struck up a conversation on Twitter with the owner of eKoffee. Jason agreed to send me some coffee to review.  A few days later 2 lbs of the "Coffee Blends" sampler showed up at my front door. That is right, fresh roasted coffee delivered right to my front door.  The coffee was fresh roasted in New Jersey at the Booskerdoo fresh roast coffee co. and the label showed the date it was roasted.  I received one bag each of the following roasts; After Dark, Black and Tan, Bottle Rocket, and Jersey Diner.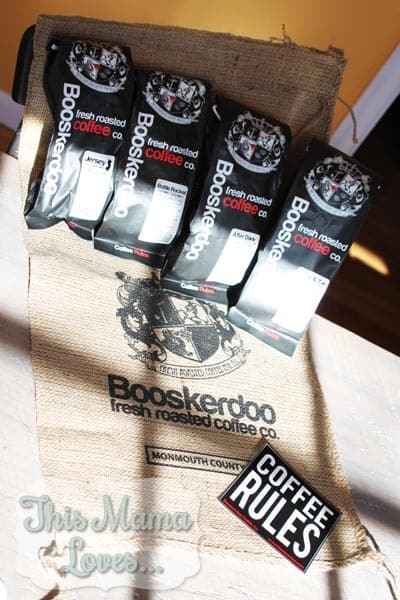 The coffee arrived in a box and came with a fun burlap coffee bag and a sticker.  This would make such a great gift.
About eKoffee.com
eKoffee.com is a Colts Neck, NJ based online specialty coffee marketplace where quality and freshness is tops, but value comes in as a close second. We saw the rising popularity of K-cups and with them the overinflated prices people were paying to brew a cup of coffee at home.  We knew it was possible to brew a much better cup at a better price.  You'll find that our specialty coffees deliver a significant increase in freshness, quality, and cost savings per pound versus a K-cup.
Booskerdoo is THE hidden gem of Monmouth Beach, NJ and their coffee is roasted to perfection for your enjoyment. Booskerdoo believes great coffee should never sit in a warehouse, which is exactly why they don't use one. Roast-master James roasts the earth's finest beans, packages them straight out of the hopper, and immediately ships them out directly to you. Fresh coffee makes all the difference and Booskerdoo coffee is definitely coffee worth waking up to!
I read a great blog article written by Booskerdoo about using a french press to brew coffee.  So, I broke mine out and got to making an incredible cup of coffee.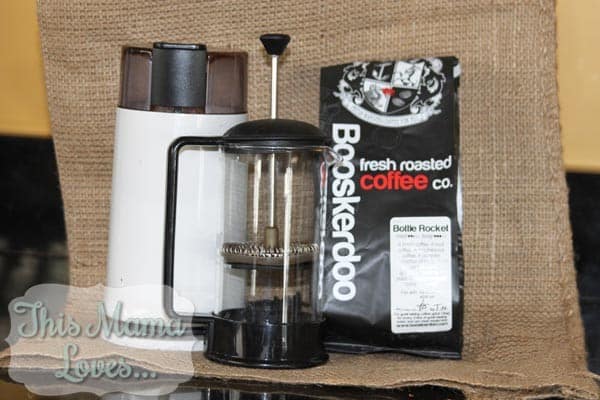 I enjoy the ease of an electric coffee maker but what a treat it is to have a cup of freshly brewed coffee from a french press.  They are easy to use and easy to clean.  You can boil your own water and get it to a better temperature for brewing.
Truly delicious coffee.  All 4 blends I received are ones I will order again for myself or send as a gift.   eKoffee.com would make a great Father's Day Gift. The customer service was friendly, the shipping was quick and the product is very high quality.
eKoffee.com is offering all ThisMamaLoves.com readers a 10% discount on any roasts when you use the discount code MAMALOVESCOFFEE. I will be using that code to try some of the Red Rooster blends this time.
Who wants a chance to win some Ekoffee.com fresh roasted coffee?
You can enter to win one of two prizes.
The first will be 3lbs of fresh roasted coffee that you get to choose from eKoffee.com .
The second winner will receive $20.00 in gift cards to use at eKoffee.com .
I was provided with samples to facilitate this review. All opinions are my own.