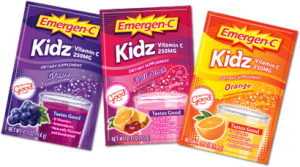 This year, with 2 kids in elementary school, I'm being more sure than ever to take preventive measures to keep my family healthy over the next several cold weather months.  My kids get sick, and more often than not a simple cold turns into an ear infection.  One of the things we do as a family is to have vitamin supplements as part of our daily routine- and with the kids, Emergen-C Kidz® is a fun, bubbly way to get some extra vitamin C into my little ones to give their immune systems a boost.  
I myself have used the adult version of this product for a few years and was really happy that they were offering a kid's version now- previously my kids were just taking smaller doses of the adult stuff.  (Just trust me when I tell you NOT to put a sippy cup lid on Emergen-C anything- can make a mess!!) Each packet of Emergen-C Kidz is loaded with great flavor (grape, orange and fruit punch- flavors kids LOVE), lots of immunity boosting vitamins, antioxidants and electrolytes , and lots of FUN with the fizz!!  My kids are big fans of the orange and punch- they love all things orange- grape's never been "hot" in this house in any product except for me- but they like it well enough.  Given a choice, they'll jump for orange every time…
Aside from the great taste (and versatility- you can decide how "strong" you mix the packets- less water=stronger flavor), the boxes are recyclable and the inks on the boxes are vegetable-based.  So not only are the folks at Alacer Corp thinking about preventive measures for our immune systems, but they are aware of the impact they have on the earth.  Win, win.
One Box Can Help Save a Life.
For every box of Emergen-C Kidz® sold, we
will donate 25 cents to Vitamin Angels, to
provide essential nutrients to one child for one
year, helping reduce childhood mortality
worldwide.  For every pledge, we will donate an
additional 25 cents† to Vitamin Angels, which
means your commitment to your family's
health and wellness can help save a life too!

Want to take the Emergen-C Kidz Pledge? I just did.  (I really hope you will too!!)  I love being able to "do good" with my money- even when indirectly done.  I like a company with a conscience.
What do  YOU do about vitamin supplements in your house?  Do you take them? Do you give them to your children?  What about your spouse?  My spouse is a tougher sell.  I am after him all the time to get some supplements in- he's finally starting to listen to me!   My feeling is, I want to try to prevent illness as much as possible- far easier than treating illness!!
One of my readers will win a box of Grape, Orange and Fruit Punch Flavored Emergen-C Kidz to try! 
"I wrote this review while participating in a campaign by Mom Central Consulting on behalf of Emergen-C and received samples to facilitate my review and a promotional item to thank me for taking the time to participate."
0