So who wants to win tickets to the NCAA Final Four?  I would LOVE to be at a Final Four game!! Even if my UCONN isn't playing, I'd still love to go! been to college ball games but never a tournament game.  So much excitement, so fast paced…. woo hoo! Unilever has partnered with Walgreens to give someone 4 tickets to the 2015 NCAA Final Four!!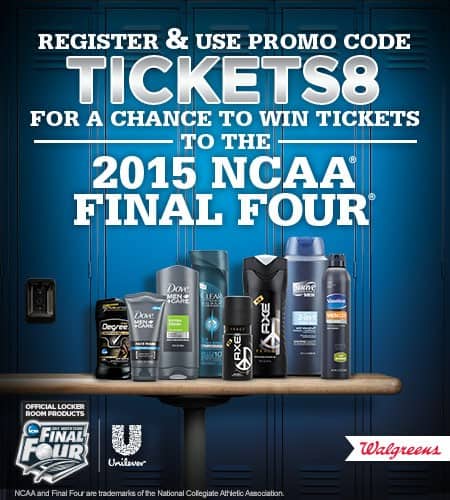 Ready to get your entries in?  Its pretty easy to enter:
STEP 1: Signup and receive 10 points
STEP 2: Redeem your 10 points for 1 Sweeps entry*
STEP 3: Buy $15 of participating products to total 150 points
STEP 4: Redeem 150 points for a $5 Walgreens gift card
As an added bonus just for my readers, use promo code TICKETS8 when you signup for an additional 10 points to redeem for an extra sweeps entry!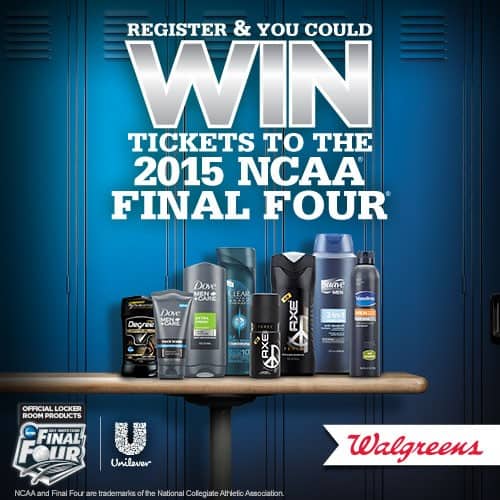 So how are you going to win big with Unilever?  Are you an AXE man?  Dove? Suave? Clear? All of the above? Now's the time to stock up- you will smell great and hey, you could win a 4 pack of tickets to next year's NCAA Final Four.  Of course, then you'll be left trying to figure out who to bring with you…. hopefully they will smell as great as you do!
Visit bit.ly/1pWFhdh  for details or head to your local Walgreens store! 
Who would you share your tickets with if you win? What's your fave NCAA team? 
0