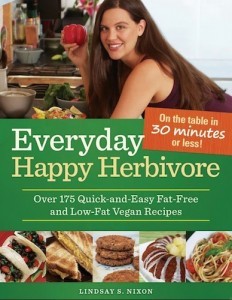 Everyday Happy Herbivore is Lindsay Nixon's 2nd wildly popular vegan AKA plant based cookbook.  I began following and chatting with Lindsay on Twitter about 2 years ago.  I have been making recipes from her website, happyherbivore.com,   all along and I was actually a tester for many of the recipes in this new cookbook. And, much to my great pleasure and surprise my name is listed in the acknowledgements.   So, I can tell you these recipes are easy to make and taste great.  I can also tell you that since following a plant based diet I have lost 20 pounds.  I have tried at least half of the recipes in this book and they are recipes I go back to time and time again.  The book is loaded with colorful photos and each recipe comes with nutritional information.  Check out the Sweet Potato Dal recipe in this post.
About Lindsay
Lindsay S. Nixon is a rising star in the culinary world, praised for her ability to use everyday ingredients to create healthy, low fat recipes that taste just as delicious as they are nutritious. Lindsay's recipes have been featured in Vegetarian Times, Women's Health Magazine and on The Huffington Post. Lindsay is also a consulting chef at La Samanna, a luxury resort and four-star restaurant in the French West Indies.
After vegan chef Lindsay S. Nixon wrapped up her popular cookbook The Happy Herbivore Cookbook last year, she went back to her kitchen in her new home of St. Maarten. Island living encouraged Nixon to come up with simpler fare, which led to a follow-up cookbook focusing on recipes that bring tasty back to quick-and-easy.

Now, in Nixon's much-anticipated follow-up cookbook, Everyday Happy Herbivore, readers will see, once again, that just because plant-based eating is optimal for health, it doesn't have to also be expensive or time-consuming.
Everyday Happy Herbivore includes more than 175 doable recipes–recipes that are so quick and easy, you could cook three healthy meals from scratch every day like Nixon does.
Each of Nixon's recipes are made with wholesome, easy-to-find, fresh ingredients and include no added fats. With additional notes indicating recipes that are ideal for preparing ahead of time and those you can whip up with just a few dollars, Everyday Happy Herbivore will be the must-have cookbook for anyone desiring a healthier, happier menu!
Lindsay has provided a sample recipe from her book for you all to try.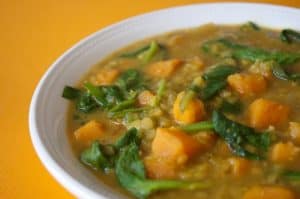 Sweet Potato Dal | serves 2
This soup is Dal-icious! It's so flavorful you'll want seconds. and thirds!
1 small sweet potato, skinned
1 small onion, finely chopped
3 garlic cloves, minced
red pepper flakes
1/4 tsp turmeric
1/4 tsp garam masala, plus extra
1 cup vegetable broth, plus extra
1/2 cup red lentils
4 cups spinach, or more
salt
Dice sweet potato into small ½-inch cubes, and set aside. Line a medium pot with a thin layer of water and saute onions and garlic for a minute. Add a pinch or two red pepper flakes and continue to cook until all the water has cooked off. Add turmeric, ¼ tsp garam masala and stir to coat. Add 1 cup broth, uncooked lentils, and bring to a boil. Once boiling reduce to low, cover, and simmer for a few minutes, about 5. Add sweet potatoes, bring to a boil again and reduce to low and simmer, until lentils are fully cooked (they expand and the sauce thickens), about 5 minutes more. Check periodically to see if you need additional broth (I tend to add an extra ½ cup but it can vary). Once lentils are cooked and sweet potatoes are fork tender, taste, adding more garam masala as desired (I like to add another ¼ tsp but some blends are stronger than others). Add spinach, continuing to stir until spinach cooks down and softens. Add salt to taste and serve.
Per Serving: 232 Calories, 0.9g Fat, 42.2g Carbohydrates, 17.7g Fiber, 4.7g Sugar, 15.4g Protein
You can find both of Lindsay's books in many of your local bookstores and on Amazon.   OR you can enter here to win a copy of Everyday Happy Herbivore.


a Rafflecopter giveaway
I received a sample of this product to facilitate my review. Opinions are my own.