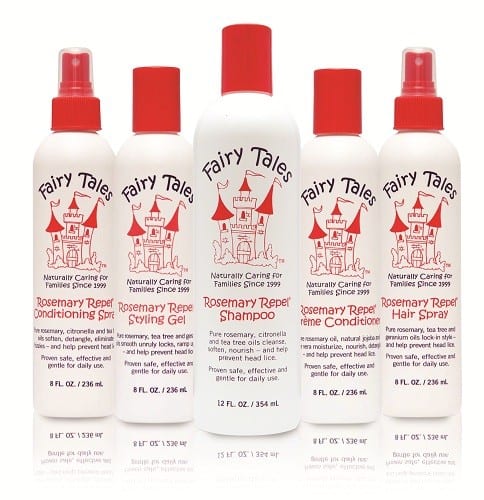 It's here, friends. Back to school time. Back to germs…and the increased risk of LICE. I kid you not, just typing those words makes my skin crawl and my scalp itch. I had lice once, in 2nd grade. I remember my mom putting all my stuff through the washer over and over again, bagging my toys in dark trash bags and putting them in the freezer if they fit.  Such a yucky feeling.  I hated it.  I also remember the product she put on my hair and scalp, and that super fine toothed comb that took hours to go through…it was not fun for anyone in the house.  I dread the day it comes into my house…although hopefully with regular use of Fairy Tales Hair Care's Rosemary Repel line of products, which consist of natural ingredients known to repel lice…hopefully we won't have lice in the house.
We've been using Rosemary Repel products  for almost a year now- and I'm especially glad we have it in the house now, before school starts. I have three in elementary school this year and that to me means triple the risk.  I love to be able to use natural products to try to prevent things like lice from entering our home- it helps me feel like I'm protecting my children but also preventing a huge mess.
Pencils and erasers aren't the only thing students are bringing back to school this season; head lice outbreaks are rampant during the school year.  In fact, according to the Center for Disease Control, there are between 6-12 million cases of head lice cases annually.

"Preventing lice is much easier than managing an outbreak, which can be a stressful, time consuming and an expensive experience for both parents and children," said Risa Barash, founder of Fairy Tales Hair Care.  "Outbreaks can impact entire schools, play groups, athletic/dance facilities and daycare centers." Fortunately, following a few simple guidelines can help deter the problem.  "Don't share hats, helmets, brushes and combs and do weekly head checks; use it as a nice time to talk to your child," recommends Barash.

Since 1999, www.fairytaleshaircare.com  has been the source for education and tips on head lice prevention and removal.  The site provides educational material and how to videos to help educate parents, school nurses and teachers on all things head lice related. The Rosemary Repel® line of hair care is designed to repel lice using organic ingredients such as rosemary, tea tree, citronella, peppermint and lavender oils. Rosemary Repel Hair Care is clinically proven to be over 95% effective when combined.   Gentle and safe for everyday use, each product is infused with aloe, jojoba and vitamins that leave hair soft, smooth and shiny.

The free iPhone app, "The Facts of Lice" is the first of its kind to report and track lice outbreaks.  With over 250,000 downloads to date, parents and educators can anonymously report an outbreak and receive notifications when an outbreak is in a selected zip code.

ABOUT FAIRY TALES

Naturally caring for families since 1999, Fairy Tales Hair Care produces an assortment of premium-quality, non-toxic hair care products and bug repellents for children.  Dedicated to maintaining the health of every family member, the company's formulas are made with the best organic herbs and essential oils and are nut-, soy, dairy- and gluten-free.  The brand's Rosemary Repel collection is the U.S. leader in natural lice prevention products.  Headquartered in Passaic, New Jersey, Fairy Tales Hair Care products are available in fine salons, pharmacies, Ulta Stores, drugstore.com and specialty stores nationwide. For more information, visit www.fairytaleshaircare.com.
Loading Entry-Form…
…


0