This is a sponsored giveaway post about being ready for anything – including
family camping
– with Bear Grylls.  If you haven't yet heard of Bear Grylls, well, you clearly aren't watching much on the
Discovery Channel
.  My husband has enjoyed Bear Grylls'
Man Vs. Wild
for several seasons, and I would be lying if I didn't admit to finding it at least interesting and entertaining.  Bear, aside from being quite easy on the eyes, is also a man with some amazing talents that have given him worldwide fame and accolades for his survival and adventure skills.  His
Bear Gryll's Gerber Survival line
is available at Walmart stores- and yes, the items would make fun gifts for Bear Grylls fans, but much of the line is also great for preparedness and family camping adventures. Bear Grylls' survival tools are great for survival but also great for any family camping trip.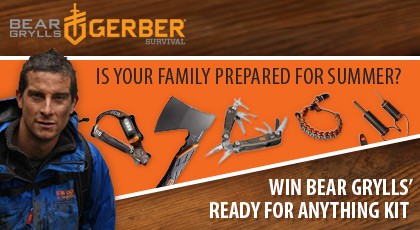 One of my favorite tools and one that I think every adult should own (and responsible kid who's old enough to handle having one) is  a multi-tool.  It's not always the ideal tool for a job, it doesn't have to be fancy, but a multi-tool can give you dozens of tools in one place, easy to store and easy to carry around.  Screwdrivers, scissors, knives, pliers, serrated blade and more.  It may not be ideal but in a pinch? It'll get you through. I  lost count of how many times I was glad to have a multi-tool nearby years and years ago.  Spend the money and get one.  They are really quite handy, especially since Bear Grylls doesn't seem to make house calls to come to our rescue.
I'd absolutely bring along a multi-tool on any trip I go on- including a family camping trip. We brought one to Disney World in January!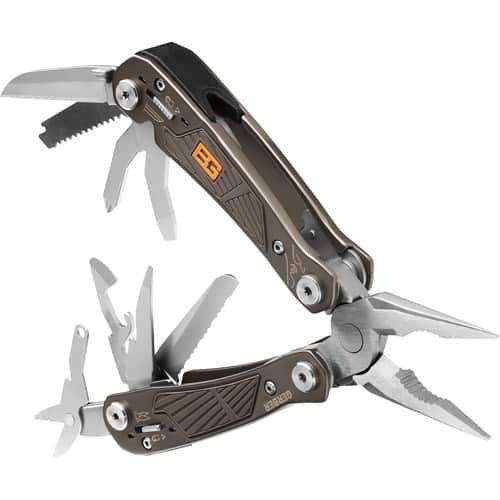 Since it's summertime and we're talking about adventure and being ready for family camping, one reader will win a Bear Grylls Family Camping Kit which includes:
Hands Free Torch (Head Light)
Survival Tool Pack (tools for camping)
Fire Starter (for camp fire pits)
Survival Bracelet (kids love these)
Hatchet (for chopping fire wood)