I realized the other day as I was writing my favorite games post that I left a new favorite out, and then I realized too that these are the games my 5 year old son loves the most- so I decided I'd share these together.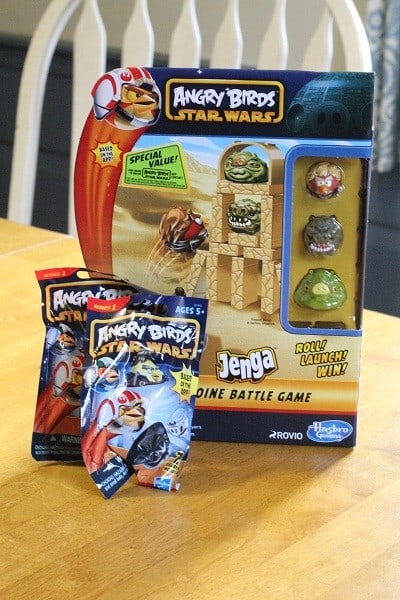 Star Wars Angry Birds Jenga– I don't know anyone who has played Angry Birds who hasn't become instantly hooked. But mixing Star Wars in kicks things up a notch, and now we can bring those cyber birds into family game nights with this Jenga game. Even when my son feels like we "always" play "girl" games, at least with this one, he can enjoy his birds AND Star Wars guys at once- and work on fine motor skills and coordination! Win for everyone!
Speaking of Star Wars Angry Birds, there's a whole line of products out. Little figures (I love fChewbacca – and R2D2), games, plush friends- and since they are *new* they will be a great gift idea! Pricing ranges from about $2.99 to $39.99 so you can find something in your price range. I got a few of my kids' friends the little mystery bags with 2 figurines inside for a holiday surprise. They were too cute to pass up!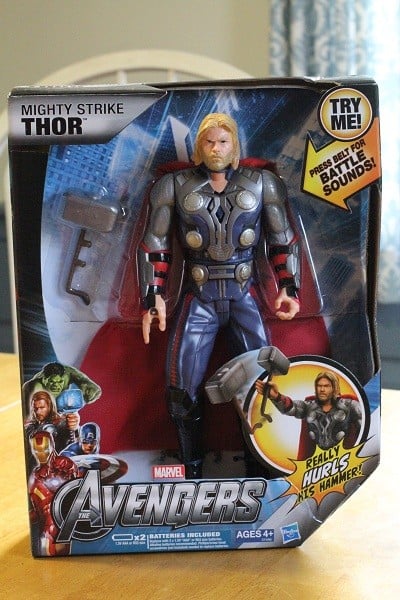 Action figures have been fun to play with….well, since the first action figure came out. We like superhero action figures around here- the Mighty Strike Thor is all powerful, all awesome and huge 10 inches tall (for an action figure). He'll be joining IronMan and Captain America on the 2nd shelf of the bookcase in my son's room in no time, I'm sure.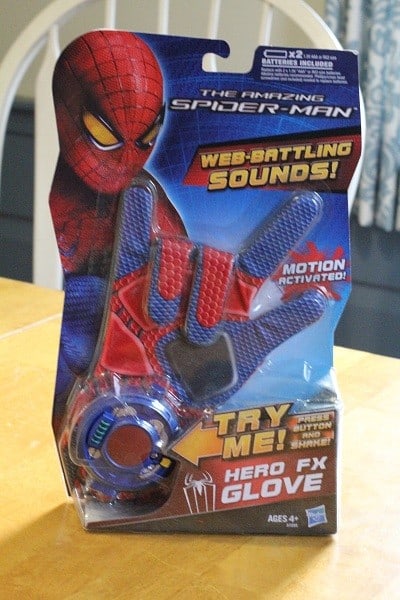 Is your little superhero fan more into acting than action? Or a combination of the two? The SpiderMan Hero FX Glove let's him BE Spidey- have Spidey's hand, make the web sounds just like Spidey (and without the mess- I love the Web Blaster, but that is an OUTSIDE toy and the webs it shoots can and will stain your ceiling (ask my husband….he's the one who learned this is the hard way). Toys like this help encourage kids to role play and my son and his little buddies spend hours upon hours BEING their favorite superheroes. It looks like the "new" Spiderman that the kids see everywhere. I like the lack of anything shooting out so that I'm not finding said pieces that shoot out all over my house. (There are also masks for the Avengers including Spiderman from Hasbro, of a far better quality construction than any costumes I have seen.
Koosh has the COOLEST new line of launchers and slingshots for the little guys- (and yes, they've even got Star Wars Angry Birds launchers and balls). I got to play with these at BlogHer this summer. So SO much fun. These look like the "big boy" Nerf-style guns, but don't require the dexterity and strength of an 8 year old to operate- so littler boys can have their shooters without frustration. The balls are a firm foam, they fly pretty far, you will feel it when you are hit with one in the tushy (it was bound to happen). They are also bound to get lost so my advice is to grab a bag of refills when you buy a launcher. MOST of the launchers are under $15 each. That's a pretty nice price, and each comes with at least 2 balls. My 3 year old daughter LOVES these launchers. I can't even describe the sheer joy in her laugh when she shoots those balls at her dad's feet! The ball launchers start at $12.99 and go up from there which means you can get him (or her) a REALLY fun toy without breaking the bank! I LOVE these launchers. I mean it. They are fun for ALL of us!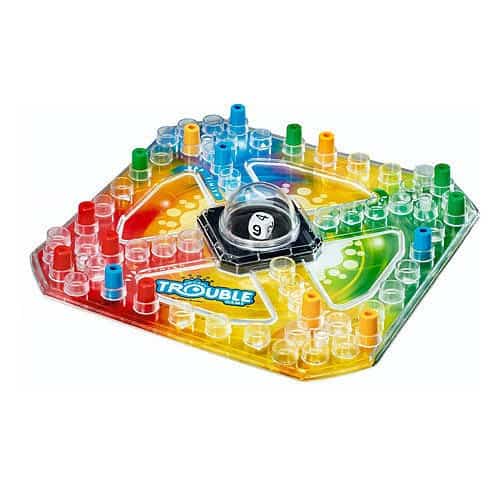 Trouble is a BIG favorite with my son and his pals. Actually, all three of my kids like this game. I like it too, especially since the die is enclosed in a plastic dome and you can't actually lose it. Very good game for when the kids get past the beginner games like Chutes & Ladders, Candyland, Hi Ho Cherrio, etc.
One reader will win a Koosh Solar Recon and a pack of glow-in-the-dark refill balls! (ARV $26.99 for the launcher, $6.99 for the refill)
To enter: Tell me in a comment: What are YOUR favorite little boy toys and games?
Want extra entries?
Visit Hasbro and tell me something you'd like to have – anything's fair game!
Leave a comment on this post
Share this giveaway on any social networking site. One share per network per day. Leave a separate comment for each entry you do!
This giveaway open to US only. One entry per household. Giveaway ends December 20, 2012 at 11:59 pm EST. Winner to be chosen randomly.
Some samples recieved for holiday guide. Opinions are my own.