Do you know that 1 in 6 American's isn't sure where their next meal is coming from? That number is unacceptable. During the month of April,
Nestle
has teamed up with Walmart's
Fight Against Hunger
initiative, and will be supporting this initiative by donating 728,155 meals across the country.  They've asked me to share about this joint initiative to help get the word out.  It makes me very upset knowing how many people are going hungry every single day in this country.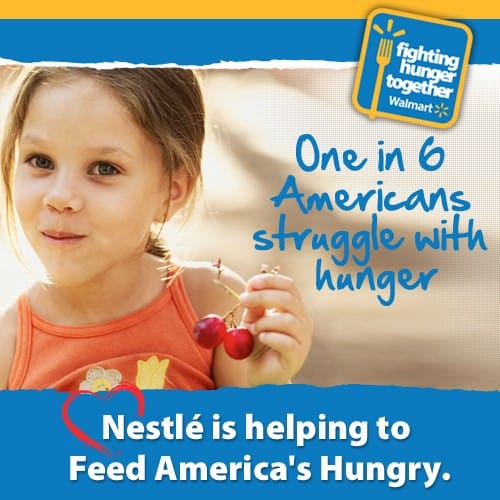 Do your part to support this national campaign to end national hunger by checking out the products available on the Nestle solutions page at 
Walmart.com
. You'll find some  deals on products for everyday meal solutions for the whole family (which I need) and a bonus? You can save them to a shopping list, all while supporting the
Fighting Hunger Together
initiative.
So maybe you get a few meal ideas, maybe you just make a grocery list because you are not me and can easily make meal plans (always open to help…) regardless, any time you purchase Nestle products at Walmart this month, you're helping to feed our nation's hungry.
To help offset the cost of your grocery list that you've created from checking out the Fighting Hunger Together page, one reader will win a $100 Walmart Gift Card and one reader will win a $50 Walmart Gift Card! 
This is a sponsored post with Lunchbox.  Opinions are my own.
0