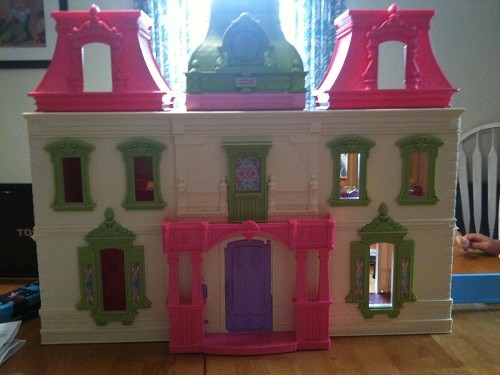 My littlest one turned 3 on Tuesday of this week. THREE.  While I still have a hard time wrapping my head around this notion, she's delighted to be three and starting preschool in just a few short weeks.  She's also been wanting a dollhouse to play with of her very own, and when we started to look for one, Fisher Price was the first place we looked.  The Loving Family Dream Dollhouse has just about everything a little one could look for in a dollhouse- 4 floors for play, including a secret playroom, 9 rooms, a staircase with a tiny hideout in it, a balcony, front porch, flushing toilet (well, the sounds of a flushing toilet…no working plumbing here…) and even a bathroom light and chandelier that light up!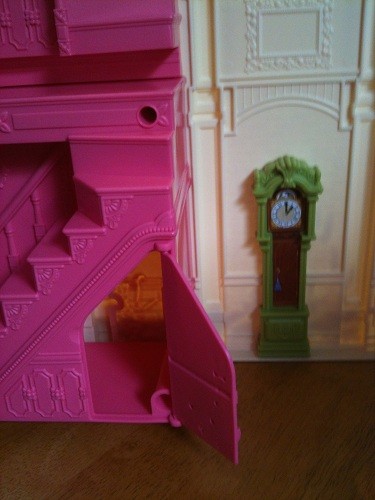 I think what I love most about this dollhouse is how well thought out the details are.  It's designed so that you can store all of the pieces inside of it when not playing with it, simply by closing the "doors" that make the ends of the house.  The house itself is not small by any means, but that means that there is plenty of room to play with the dolls and furniture- for one or more kids.  Your little one can have a few friends come over and play with her, and they'll have enough room to play and not get into one another's way.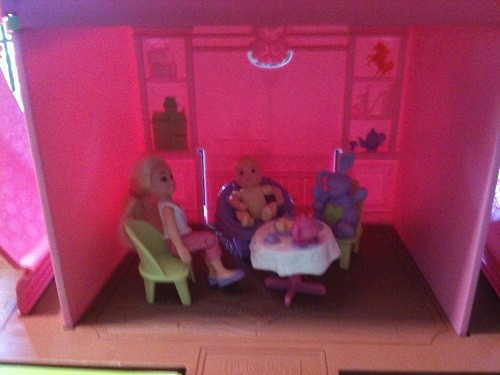 The furniture and accessories for this dollhouse are great- Fisher Price knows how to make sturdy, lasting pieces for years of play and these are no exception.  Many of the pieces have interactive components- the stove "burner" makes sounds when pressed, the stove opens, the refrigerator doors open and you can easily store the food inside.  The kids got a little frustrated that the food is connected, but if it wasn't, those pieces would be gone before any amount of time passed- I think this was a great idea by the designers. There are 3 AA batteries required for the lights and sounds that function on the house in different places- and these are housed inside the bathroom vanity- a perfect place to hide batteries!  (It's kind of a pain to get that vanity cover off to change the batteries, but I cannot imagine the batteries will be changed very frequently, and honestly, given that this is for ages 3+, I'd rather have the batteries be that much harder for little ones to access than easier, you know?)
When you purchase this dollhouse, it comes with a mother, father, daughter and a baby for dolls along with a sofa, baby rocker, toy bear, and a child's table and chairs for the playroom.  My favorite of all of these?  The child's table.  It's set for a tea party- all of which is part of the table, so no losing teeny tiny pieces…but the teapot can be lifted off the table…and put back down…it's got a small string attached so it won't ever actually get separated from the table!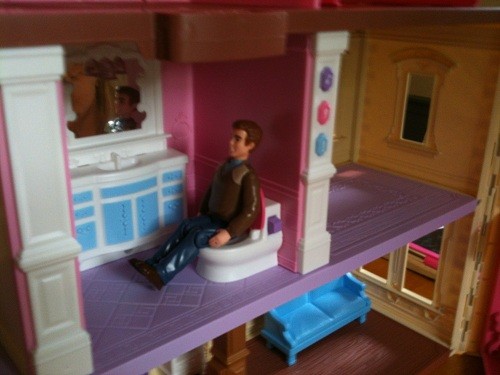 The dolls that go with the Loving Family house are jointed so that they can sit down on a chair, the toilet, the sofa…or lay in bed.  The joints are easy to manipulate and stay put once you've posed them, so your little one isn't going to get frustrated from them slipping back into another position.  The mother's and daughter's hair is real, and brushable, while the baby, father and brother's hair is painted on.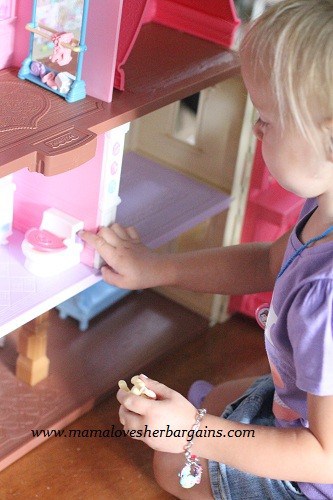 There are several accessory sets you can purchase to go along with this house, all ranging in price, but add so much fun to enhance your little one's play.  We've added the Kids' Bedroom set, the Dining Room Set, Bathroom (another accessory where there's a blowdryer that's attached to string in the drawer of the vanity), Laundry Room, Parent's Bedroom, Home Office, and more.  You can add on slowly or all at once- that can make for several years of fun!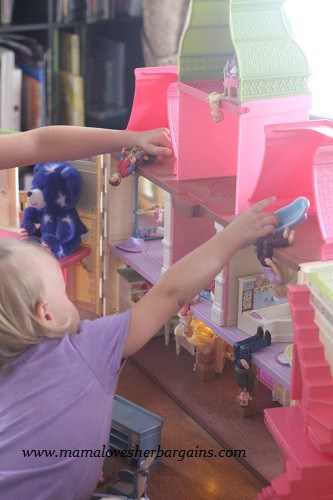 This dollhouse is geared toward ages 3+- and I will tell you that my 7 year old and my soon to be 5 year old both love playing with it too.  Of course, we've experimented with silly things with the house- I found a Power Ranger in the bathtub, the big brother with his skateboard hanging upside down from a window, and other things- but mostly, I hear the kids playing together, and playing with me together.  I haven't figured out why no one let's me be the mom- the kids tell me I'm not good at pretending to be the mommy.  I'm always the grama or the baby.
The Loving Family Dream Dollhouse is priced at about $90.00 and comes with 4 dolls, a child's playtable and chairs, a toy bunny, tea hat, baby bouncer and a sofa.  The accessories range from about $5 to $30 and include dolls, playsets and more.
I received a sample of this product to facilitate my review.  Opinions are my own.