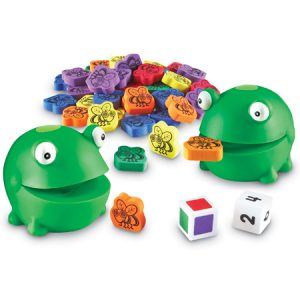 I have another "guest" review from my son's preschool teacher.  Mrs. O is a certified special education teacher who is the head teacher in the Peer Model Preschool Program at our local elementary school.  She's been doing some reviews of Learning Resources' learning games and sensory products for me and has just sent me some feedback on Froggy Feeding Fun!
 This is a wonderful game. I can incorporate so many different math concepts such as color identification, counting, 1:1 correspondence, the concepts more than and less than… Students really enjoy the frogs and find them motivating. Not only do students benefit from learning math concepts when playing this game but they also work on strengthening their hand muscles each time they squeeze a frog to catch a fly. This really helps support appropriate finger grasp on writing tools. As a special education teacher in preschool I also incorporate crossing midline and concepts such as in front of, behind, left, right, etc when playing Froggy Feeding Fun.
I love Learning Resources because they truly offer educational games and toys that offer different ways for kids to learn in fun ways.  I have found their quality of materials to be nothing but excellent and will continue to support this brand because of their dedication to kids' educations.
Look out, flies! Squeeze open Froggy's mouth and grab flies to strengthen fine motor muscles. Also develops number sense, counting and color recognition.

Roll a cube to determine which flies to munch—practice number and color matching skills too

Includes 2 durable rubber frogs, 60 flies, 1 number cube, 1 color cube and Activity Guide

Frogs measure 2.5" in diameter
One reader will win Froggy Feeding Fun for their house!
I received a sample of this product to facilitate my review.  Opinions are my own (or rather, Mrs. O's!)