We play a lot of games, especially lately, with spring  upon us, melting snow, and MUD season.  Kind of hard to do a lot outside when you live where we do- the water table is very high and the ground is just sopping wet.  Its kind of like stepping onto a sponge.
Fundex Games offers a big variety of good, quality, fun family activities.  From the Snoopy Sno Cone Machine to puzzles with moveable parts, you are likely to find something to make just about anyone in your house happy!
Pinkalicious Cupcake Party Game: The Pinkalicious series has hit America by storm and having games to build on the pink-apalooza only makes it more fun.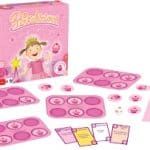 Players work together to collect cupcakes and fill the tray by performing activities from 4 different categories; charades, dancing, drawing, and rhyming. Players roll the die and draw a card from the corresponding category pile, then perform the challenge shown on their card. When the cupcake tray is full, it's time for a party! Includescupcake tray game board, 8 cupcake game pieces, 1 drawing pad, 1 die, and 100 challenge cards.
We liked this game.  Definitely helpful if you have a child who can read a bit- otherwise you need a lot of adult involvement.  We're big Pinkalicious fans so we were really excited to check this out.  Lots of drama, art and movement in this game, plus the pinkness is oh so very cute!!
John Deere Dominoes: Any little John Deere lover will think this version of dominoes is tons of fun!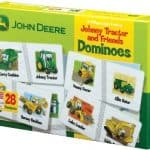 Kids can play along with the bright, colorful images of Johnny Tractor and his friends to help develop their matching, recognition and organizational skills.
My three year old is rockin' the dominoes since we got this game.  Super sturdy cardboard, familiar Johnny Tractor, Eddie Excavator, and other John Deere friends help the littlest tractor lovers to learn a classic game.  Nice big pieces that are very durable and easy to hold.  One thing I LOVE about this game is the directions are on the same sturdy cardboard!!  Nice attention to detail.
Snoopy Sno Cone Machine: This is such a simple machine and offers so much fun when you have a hot day, or even a cold day with a sore throat!  I wanted one of these so badly as a kid and at 36 years of age, I finally have one.  You know, for the kids!)
For nearly 30 years, the Snoopy Sno-Cone Machine has symbolized summer fun. First introduced in 1979, this nostalgic toy lets children create treats to help them beat the heat. Just place an ice cube in the Snoopy Sno-Cone Machine, and watch it transform into a delicious dessert with a few turns of the handle. Kids can even flavor their creations with the included Flavor-Aid or with their favorite juice or soda.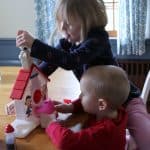 We have used the Sno Cone machine a few times already- when the kiddos were sick it was a huge help- something new and fun to do, plus a soothing treat on very sore throats.  So simple, so cute, and SO much delicious fun! I can't wait to use it more as the weather gets warmer.  Easy to clean, not a ton of pieces to keep track of or assemble after you clean, and you can buy flavored packets if you want or just use juice you have at home.  We have 2 very large blueberry bushes in our yard and always end up with too many blueberries that we don't have room to freeze so I think we'll be making some simple syrup with pureed blueberries for sno cones this summer!!
Great American Puzzle Factory is a sister company to Fundex and offer a big variety of puzzles for all ages and skill levels.  They sent us the Make 'Em Move Assortment-Boy set, each of which comes in its own storage box and has moving parts to play with once the puzzle is put together.  Each of the puzzles has 24 pieces, are made of a really thick, sturdy cardboard and the moveable parts are fastened atop the puzzle with grommets.  Perfectly sized and constructed for little hands to manipulate!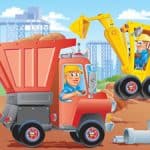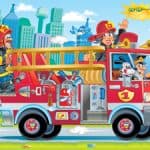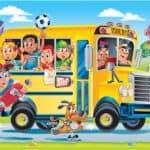 Buy It: Find a retailer to purchase Fundex Games right on their site.  Amazon, Borders & Barnes and Noble are all listed as links.
THREE of my readers will win a Snoopy Sno Cone Maker!!
Mandatory Entry: Visit Fundex Games and tell me another game not mentioned here that you'd like to check out.

Extra Entries:
Visit Great American Puzzle Factory and tell me another puzzle you'd like to try
Like Fundex Games on Facebook
Follow me via GFC, Facebook, Twitter, RSS or Email Subscription (+1 entry each)
Share this giveaway on any social networking site: "#win a @FundexGames Snoopy Sno Cone Machine from @mamatomjr http://wp.me/p1qA6G-OS" (can be done 2x/day at least 1 hour apart)
This giveaway will end on April 15, 2011 at midnight, EST.  Winners to be chosen using "And the Winner is" and will have 48 hours to respond to initial contact.  US only.
I received a sample of this product to facilitate my review.  Opinions expressed within are my own.