Galactic Hot Dogs Graphic Novels for Kids
Since the initial launch of Galactic Hot Dogs on Funbrain.com in the fall of 2013, millions of kids have delighted in the exploits of Cosmoe, Humphree, Princess Dagger and the rest of the gang featured in each weekly webisode. The first book in the series, Galactic Hot Dogs: Cosmoe's Wiener Getaway, was published last by StoryArc Media in May of 2015. Now Cosmoe the earth-boy and his space-adventuring partners return, ready to save the galaxy (and sell more hot dogs) with the new book released on May 3 –Galactic Hot Dogs: The Wiener Strikes Back. This post is part of a sponsored review with Galactic Hot Dogs and StoryArc Media. 
I'm all about encouraging kids to read in any way we can. Especially kids 8-14, who maybe want to do more digital time than book time. So when i find fun books that engage kids relating to their shows or games, I'm happy to bring them into the house for the kids to enjoy.  I decided to let the kids share about the Galactic Hot Dogs books, since they've been reading and enjoying them the past few weeks, and let their voices speak instead of mine.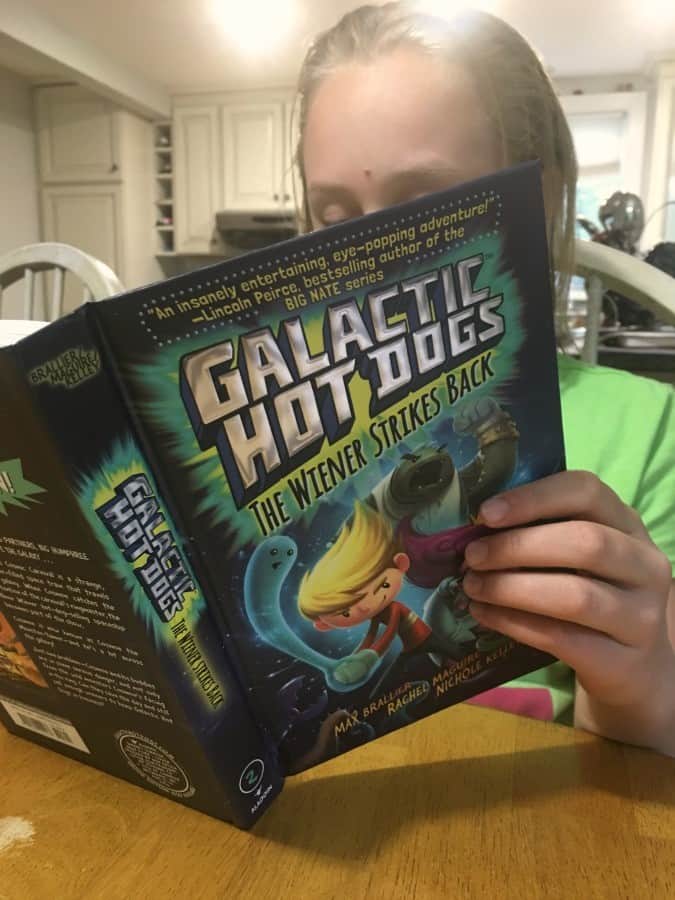 6 year old: The kids in the story – Cosmoe, Humphree and Princess Dagger found a Pirate Ship up in Space. The Pirate Ship has zombie pirates living in it. The kids fight evil and sell hot dogs. Fighting evil is hard work and can make a kid hungry.  Cosmoe is an earth boy, but Princess Dagger and Humphree are from space. The kids have to go to a planet that has aliens on it to get a specific monster- Cosmoe made a bad guy there mad. There was a big big thing, like an evil worm that Cosmoe had to fight.  Worms are gross. This worm has a muted on it's head and it makes it really evil (mom note: it's a machine on their head that makes them mutate).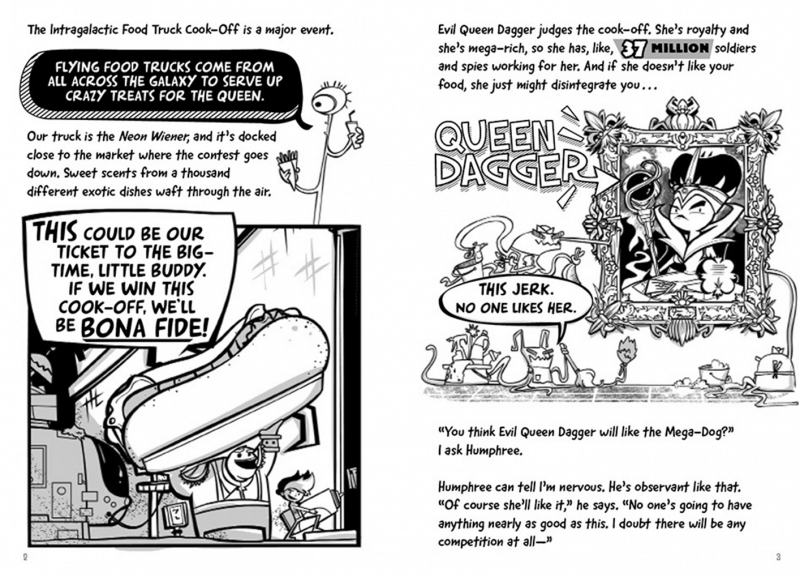 10 year old: The Galactic Hot Dogs books are really good. The author does a good job playing with words to really bring you into the story line and relate to the characters. In the second book, the friends join the circus, and after it's too late, they realize they shouldn't have joined. After Cosmoe performs, they discover that the person running the circus is actually working for evil Queen Dagger and her army. When the maposphere is all together, it leads to the ultimate evil, and Cosmoe and his friends try to destroy it.  You have to read the books to find out if they succeed.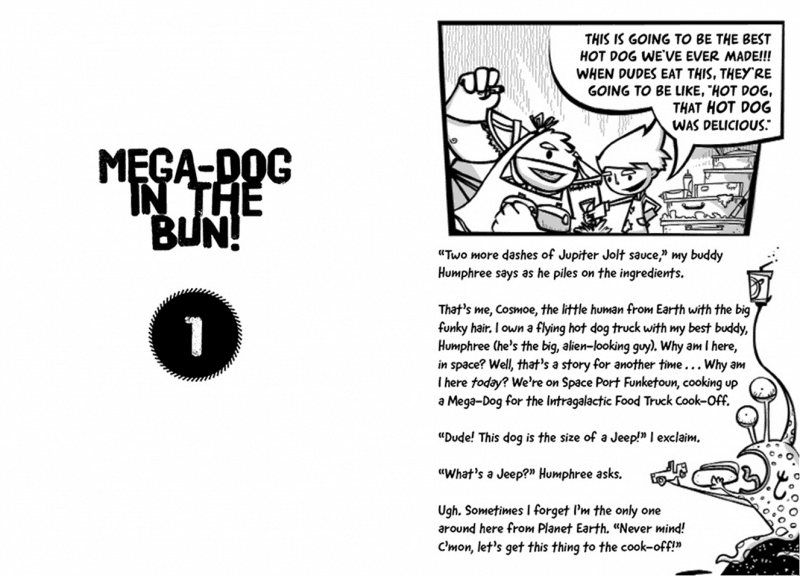 8 year old: The books are fun to read but they always have the ending when the good guys win and I like books where the bad guys win or everything isn't always happy. Mom said it's good when the good guys win, and besides, who doesn't love a mutated alien in their books? There's a robot with the kids and it tells them stuff like how many ships are out there listening to them.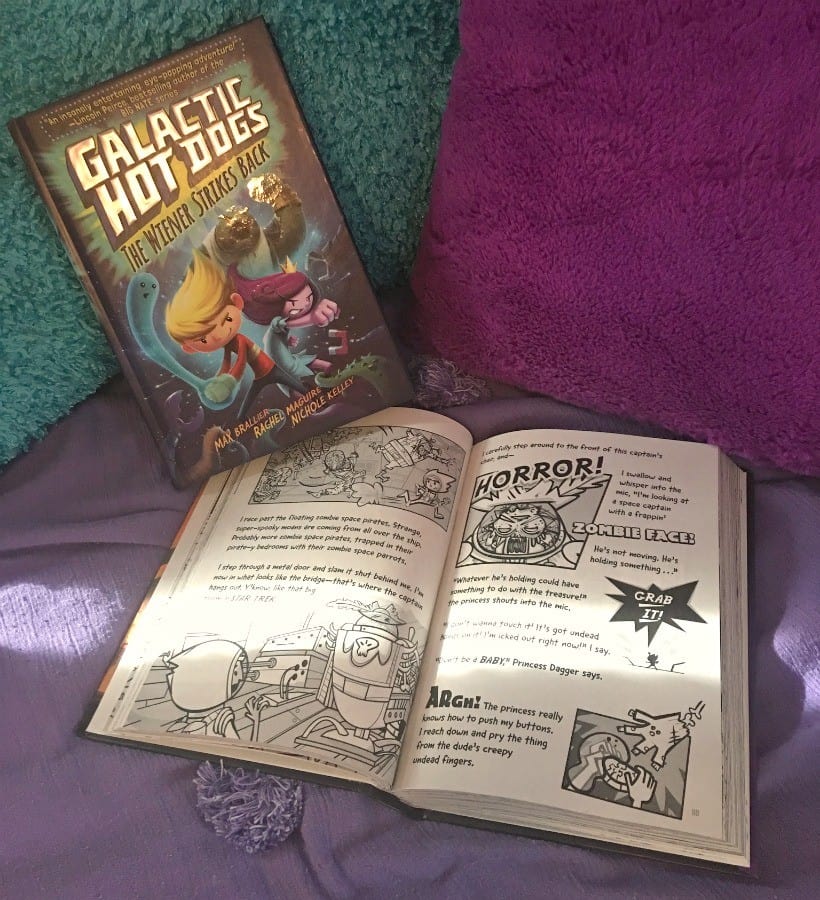 ABOUT STORYARC MEDIA
Brought to you by, StoryArc Media is a kids' media company made of storytellers, entertainers and educators that delivers engaging, interactive experiences that are all fun with ample doses of learning perfectly suited for today's digital native. Kids around the world enjoy the online games, mobile apps, books, and more. StoryArc's signature property, Poptropica, is a multiplayer online game with more than 10 million players globally. Additionally, StoryArc Media's roots go back to the genesis of Funbrain, a go-to destination for kids, teachers, librarians, and parents. For almost 20 years, Funbrain has offered engaging interactive games that develop skills in math, reading, and literacy in a safe online environment. In addition, StoryArc has published several books on the tween must-read list, including recently named New York Times bestseller Poptropica: Mystery of the Map.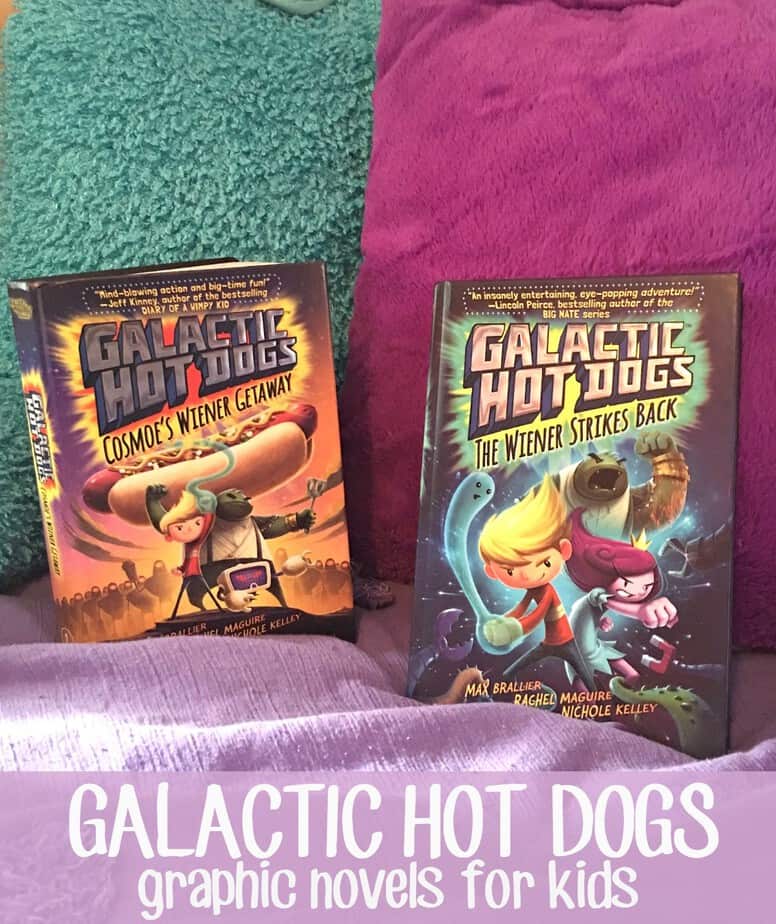 Enter to win both of the new Galactic Hot Dogs graphic novels below!