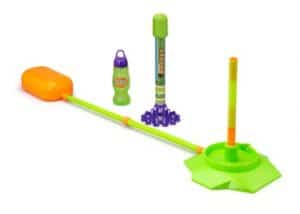 What kid doesn't LOVE bubbles?  I still do (although as the adult having to blow eleventy million bubbles for a toddler, I get dizzy fast…) and adding bubbles with a rocket powered by stomping on an air bladder makes for a very, very fun toy in the form of the Gazillion Bubble Rocket!
Funrise Toys recently redesigned this rocket and in my opinion, they did an amazing job.  All three four of my kids (counting my husband) adore this toy- my 2 year old tries very hard to jump and stomp to get the rocket to move, but doesn't mind- and LOVES to chase the bubbles.  My 4 year old is getting better at the stomping- but my 6 year old and my husband have stomping contests to see #1 who can get the rocket highest and #2 who can get the most bubbles to come out.  (This is recommended for ages 6 and up but honestly?  FUN for all ages!)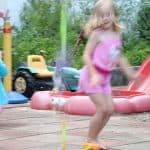 Assembly is quick and painless – and using the rocket itself is fairly simple too.  The rocket works with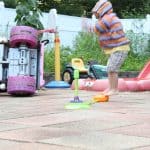 and without the bubble solution but the bubbles just make for a litte bit more fun!  No batteries required although you can expect to purchase bubble refills (or make your own) because you will want to keep using this toy!
3, 2, 1 BUBBLE BLAST OFF!!! Watch a Gazillion bubbles soar into the air with this Amazing Gazillion Bubble Rocket! Simply pour Gazillion Bubble solution into the tray of the launch pad, place the rocket on the launcher, and with YOUR STOMPING power launch the bubble rocket for a bubble trail of sky high fun! Comes with a cool rocket, launcher, stomp pad and 8oz of Gazillion solution for continuous rocket fueled action! No batteries required. iParenting Media Award Winner!
One of my readers will win the Gazillion Bubble Rocket and a 32oz solution (you'll want the refills, because you'll be stomping like crazy!)


I received a sample of this product to facilitate my review.  Opinions expressed within are my own.
0